Art Deco Jewelry • Art Deco Rings
The Art Deco movement in jewelry was known for its bold designs and innovations. This Art Deco Period was in between the World War 1 and World War 2 –  1922 to 1938 in Europe. One of the most talked about jewelry pieces of that era are Art Deco Rings which were very popular but there were other varieties which famous makers like Tiffany, Cartier, et al pursued.
Most of us have heard the word "deco" thrown around by countless designers, jewelers, etc- but more often than not we hear it used incorrectly. If you are interested in learning about the Art Deco period, or just want to drool over some amazing pieces of jewelry, continue on below.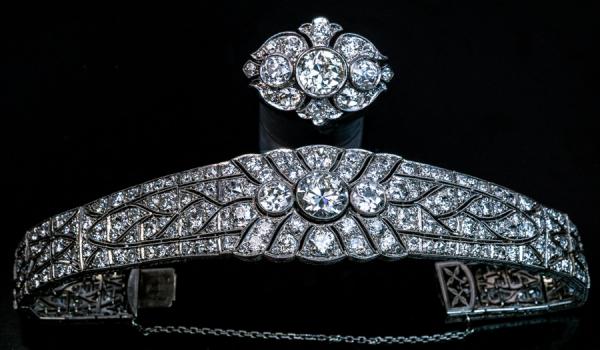 The Art Deco era (approximately 1922 to 1938) was a unique period in the art and design world, resulting in revolutionary ideas in areas of fashion, architecture, home furnishings, and especially jewelry. To understand this period one must understand the decade leading up to the 1920s. Europe had been fully preoccupied by the horrors of World War I so the following peacetime caused a light-hearted spirit to sweep the continent, resulting in a boom in the worlds of art and academia. In the United States the post war era caused a financial boom- the roaring 20s- that lead to increased household incomes and freedoms. This happier attitude and increasing financial means allowed ordinary people to buy nice things, like cars, homes, and jewelry.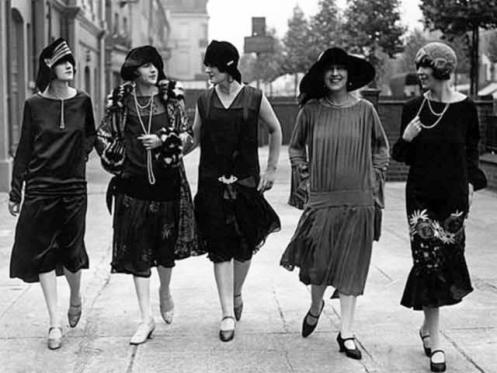 There were also a couple on unintended consequences of the war that seemed to fuel the Art Deco movement. Women who prior to the war were restrained by social etiquette and corsets did not want to give up the freedom they found through war-time work. Thus what had been necessity on farms and in factories during the war effort became fashionable after the war- shorter dresses and sleeves, short hair, no corsets, fun accessories, etc (notice the short hemlines, v-necklines, fun hats, and chunky jewelry accessories that the "flappers" in the above image are wearing). At the same time the world was seeing more innovations in science and technology. While the mechanized warfare of WWI was horrific, many scientists and businessmen realized that the same technologies used during the war could be modified and applied to the arts and manufacturing of other products.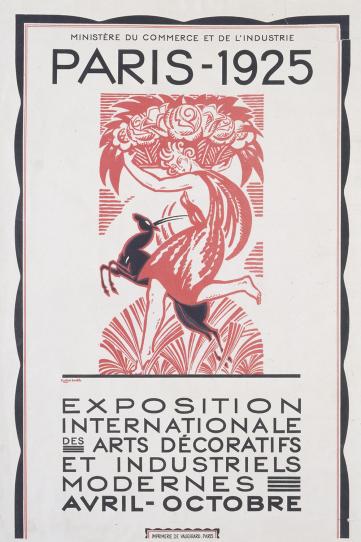 In response to these trends, the French ministry of commerce organized the 1925 Exposition
International des Arts Décoratifs et Industriels Modernes. This was a large trade fair intending to draw international notice to the artists and jewelers in Paris who were creating these new and unusual designs. The jewelry exhibit blew away all who came to see it (so much so that the Art Deco moniker came from this show). Some jewelers found inspiration in the discovery of King Tutankhamen's tomb and used ancient motifs like scarabs and Egyptian gods in modern pieces. Other jewelers seemed to be inspired by the bold designs of the Far East. Tiffany made pieces inspired by the art and nature of Japan, Cartier made pieces inspired by the Moghul rulers of India. Other jewelers came up with totally new designs, like Van Cleef and Arpel's invention of invisible setting which is so popular today. The one theme that seemed to run throughout all of the jewelers was a love of bold, symmetrical designs that were far less frilly that the Art Nouveau pieces. These jewelers wanted their pieces to be worn and enjoyed, making jewelry more of a statement of personal style than ever before.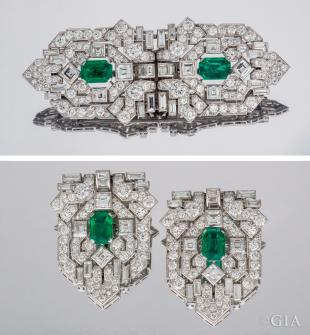 The Art Deco movement in jewelry was known for its bold designs and innovations. The pre-war pieces were more ornate, intended to be worn at formal occasions and candlelight whereas the Deco pieces were more symmetrical, with a focus on geometry and order that contrasted with previous eras. Many new materials were employed at this time. Platinum and flush-settings were employed to make the pieces wearable on a daily basis. Modern cut diamonds were becoming popular, but there were also some more unusual cuts invented or popularized at this time, such as marquise, emerald and Asscher cuts. Likewise, we started to see new and exciting styles in jewelry. The early 1900s had been dominated by mass-made jewelry ordered through the Sears catalogue, but increased selection ruled king in the 20s. Gone were the days of women wearing plain gold wedding bands, and in was an era of ordinary people wearing diamonds and custom made jewelry. Even two rings that looked similar would be different, as hand chasing and engraving of the metal made each piece unique, and items ordered in small town jewelry stores could be modified to match the hottest trends in magazines and on the screen.
The Art Deco period has had a lasting impact on jewelry design. It was during this era that we first saw platinum used in mass, and the first era in which white metal was used more than yellow gold for fine jewelry. Also, prior to this time we had never seen the use of smaller colored gemstones in jewelry design. From the Van Cleef invisible settings, to calibre´ rubies, emerald and sapphires set in intricate motifs: fine gemstones were used to highlight incredible workmanship and design. Additionally some of our now favorite designs were first used during the Art Deco Era. The "Tiffany 3-Stone Ring" using tapered baguettes on either side of a central diamond was first used in this period. Cartier and other French design houses started using fancy shaped diamonds, like trillions and shield cuts, to flank emerald cut or cushion shaped center stones- a style that is still synonymous with understated elegance today.
In our April newsletter we highlighted this consummately Art Deco wedding ring (see below), which is a great case-study in the Art Deco style. First, the square stepped geometric design is classic Deco. Second, the use of platinum and transitional-brilliant diamonds demonstrates the focus on the new and exciting manufacturing processes of the time. And lastly the entire ring is covered in hand carving work which allowed the platinum to look its best even through heavy wear. This particular ring has some unique features too. The center diamond is of the highest quality. The transitional brilliant was cutting edge technology in its day, and this particular diamond is a very good one (the diamond is rated G color, VS2 clarity). Another interesting fact is that one of the matching wedding bands is constructed in 14k white gold, while the rest of the ring is made in platinum. It was uncommon for these to have matching wedding bands at all, so it seems likely that these were added in stages, with the white gold band added in the 1950s (25th anniversary gift, maybe?). The best part about this ring is the look on the hand when it is worn. It sits low, allowing everyday wear without an issue, and yet the entire ring is diamond encrusted, so it sure does shine- even 90 years after it was made.

Contact us for more details on this and other Art Deco pieces we may have in stock. We owe a special thanks to the Gemological Institute of America, Romanov Russia, and Antique Jewelry University (a fabulous website courtesy of Lang Antique Jewelry) for the amazing photographs in this piece.