You dream it, we create it.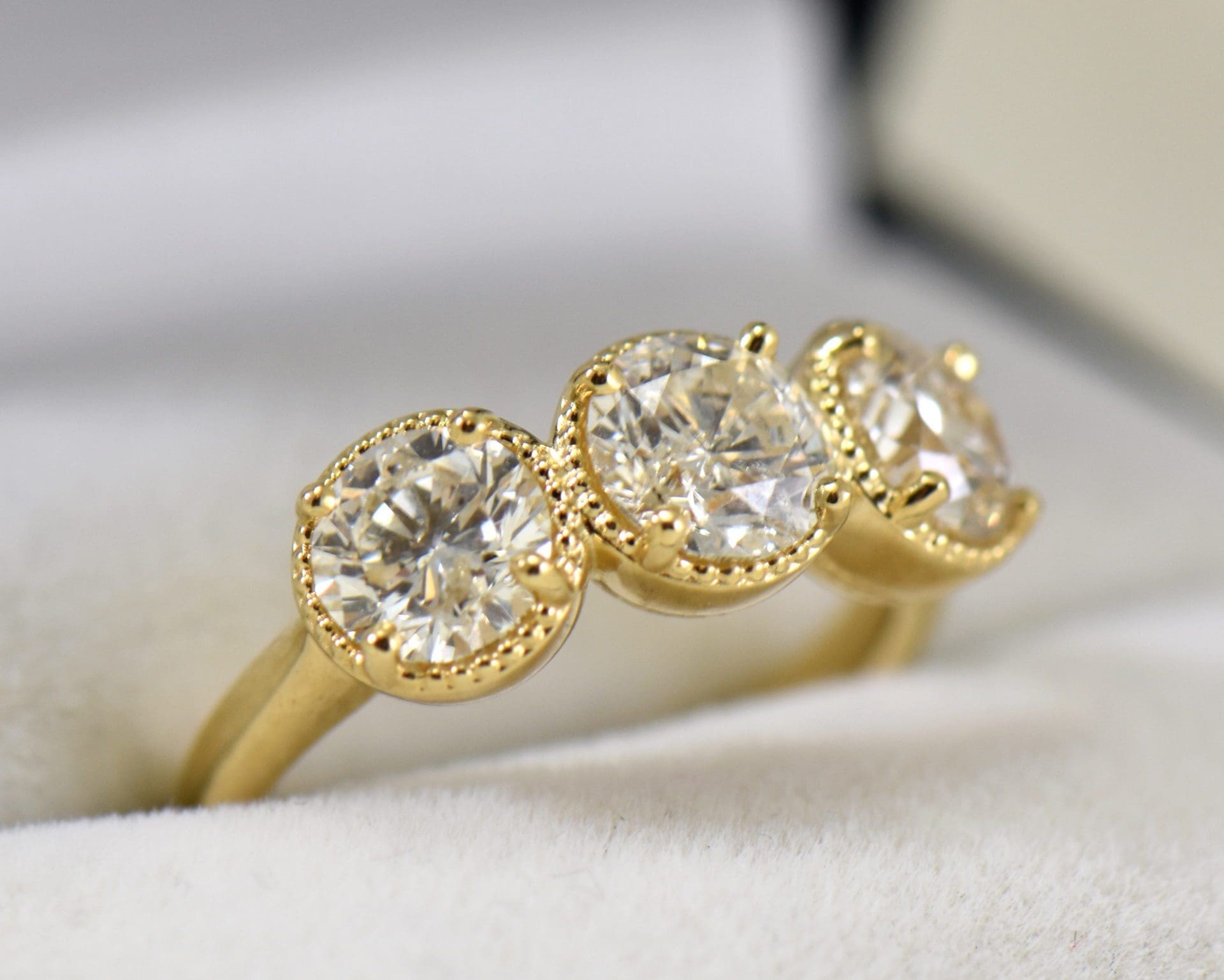 With 'Custom' in our name and over 65 years of experience, FWC Jewelers is Tacoma & South King County's top-rated jeweler for custom design. 
Our design experts are excited to start on your project! Whether you wish to create the dream ring, a one-of-a-kind item, or maybe you want to repurpose an heirloom Diamond into a timeless setting, our experts will learn your wish list and guide you through the design process. We offer old school lost wax casting in addition to modern CAD design technology- either way, you are in charge of your design, we simply guide you and execute the creation. We use the highest quality, ethically sourced materials to produce beautiful custom rings.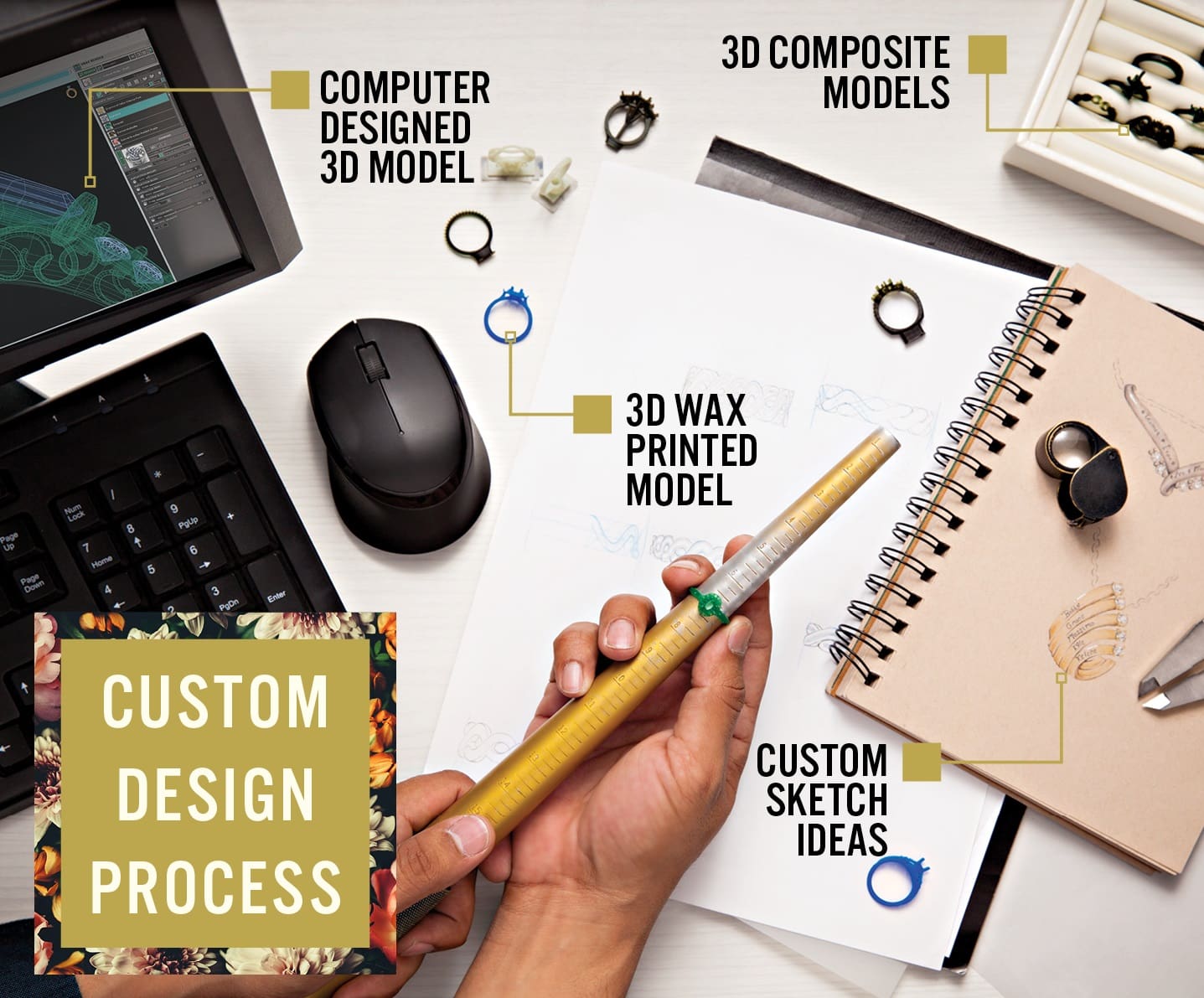 How much does a custom ring cost? 
There is no flat rate for custom design work, but we offer different tiers of customization to make custom jewelry affordable. We strive to maintain a low overhead and offer fair pricing while maintaining high quality standards and excellent customer service. 
Our first custom tier is semi-custom. In the semi – custom process, we work to modify items you already own, or to mount gemstones into semi-mounts (rings without a center diamond or gemstone) that are made to order. We can often modify a client's ring – setting a diamond lower, adding accent stones, repairing the shank, etc. more affordably then making a new ring entirely. This is ideal for clients with a sentimental heirloom engagement ring who want to modernize it, or those looking to upgrade for an anniversary. Customizations start in the $150-500 range and increase with complexity. 
We also sell a wide variety of semi-mounts for rings (in addition to pendants and earrings) and can order others. Looking for a solitaire engagement ring with a twist? We can look through our supplier's offerings first, as a made-to-order ring mounting will be a more affordable option than a full custom design, and there are lots of ring designs to choose from! You may find the perfect ring mounting sitting in our case or available to order, but even if you don't, the search will help narrow your focus and develop your wish list if you opt for a fully custom made ring. We stock ring mountings in white, yellow,  and rose 14k and 18k gold, with other metals available by order. Solitaire mounts start in the $350-650 range, diamond-set semi mounts range $750-2500 and increase with added diamond and gold weight, complexity, etc. 
The top tier of custom rings is the full custom design process. Ideally, clients come to us with a design in mind, or a wish list. Or, we can work with a client to develop a working design, and give an estimate from there. Once we have ideas and a sketch, we use CAD design services to make the working design which allows us to provide a more accurate price quote. The CAD allows the client to modify their design over time, and we can also modify the design to change the price. Various options impact pricing– metal choices, diamond quality, different center stones, complexity, etc. If you come to us with a design goal and a budget, we can often work within it to turn your ring dreams into reality. Custom rings typically start in the $1000-1500 range and increase with complexity or for more expensive center gemstones.