What services do you provide?
Federal Way Custom Jewelers is a full-service jeweler with 68+ years of experience serving the South Sound community with all of their jewelry needs. We specialize in fine jewelry, with new items in our cases, a curated collection of antique & vintage items, and a skilled custom-design staff. See us for engagement rings, wedding bands, custom designs, gifts, expert repairs, diamonds & colored gemstones, and estate consulting & appraisal. We are a trusted buyer of gold, diamonds, antique jewelry, and scrap precious metals as well.
Is your goldsmith or master jeweler on site?
Our on-site jewelry experts are GIA-trained Accredited Jewelry Professionals & Gemologists with decades of jewelry experience. They handle all repair and custom design decisions, planning, and estimating, and then it goes via courier to our hot shop for the actual work. All of our custom jewelry and repair work is completed at this secret and secured local hot shop. We belong to a goldsmithing collective with many goldsmiths of different skills and training which we use to undertake a variety of jobs, from the simplest to the most complex. Having this facility offsite allows us to have more space, a larger team, and more affordable pricing. Repairs and custom work can take as little as two days to as long as 8 weeks, but we take the time necessary to complete the job the right way. Your items are fully tracked and insured while in our care, and our work is backed by a one year warranty.
To protect our clients and ourselves, we take copious documentation of every item left with us. Clients are given detailed claim checks with descriptions of their item(s) and notes with the work to be performed. For Diamonds over 1/2ct in size, we perform a diamond plot: we will look at the diamond under a microscope then plot any identifying characteristics on a map of the diamond. We then show you the diamond under the microscope, such that you can identify your diamond before and after service. We then photograph items taken in and document condition before and after work is completed. Your item is fully insured and in good hands while in our care. 
What does the custom design process look like?
Making a piece of jewelry can be done many ways and produce a variety of results. We offer both full-custom and semi-custom design services. In the semi-custom design process, clients choose a gemstone or bring in an item they already own, and create a new item using pre-made ring, earring, or pendant mountings supplied by us. This is often the quicker and more affordable route. We work with several suppliers known for high quality semi mountings available in all colors and karats of gold, platinum and silver. From the simplest solitaire, to a blingy halo, or a vintage inspired design- we may have it in the case or have it in our online catalog. Examples of semi-custom designs include setting a pair of diamonds in stud earrings, or setting three gems into a 3-stone anniversary ring. Our master goldsmiths are also able to modify existing items, so we can often revamp and improve existing pieces into something you will love to wear.
The full-custom process is best for the client looking to make a specific design, maybe with an unusual gemstone, or for someone with a set wish-list that we want to accommodate. Typically a client comes in with an idea- sometimes a sketch or photo of an item they like, sometimes a gem they want to mount- and we work to create a drawing of a design for that item. Usually, we use computer design software or CAD to make the design, since it allows us to easily edit the design and make different versions more affordably. From there, we can 3D print a mold then cast the ring from the chosen final version. We also still offer hand drawn designs and hand carved waxes when the occasion fits, and make rings via the old-fashioned lost wax casting method. Examples of a custom design include making a custom necklace to replicate a locket that your grandma had when you were a child, or maybe a custom engagement ring to hold a sapphire with unusual dimensions. The custom process is not necessarily more expensive but it does take a bit more time and creative energy.
How long does a custom design take?
The custom design process can take anywhere from one week to 3 months, depending on the process and project. If you are setting a gem into a semi-custom mounting that we have in stock, we can often complete these projects in 1-2 weeks. If you are working on a full custom process, the actual process of making the item takes 2-4 weeks. However, when you factor in the time it takes to generate and finalize the design, add an appraisal, make adjustments, etc. these commonly take 6-12 weeks. We recommend that clients start in advance on complex projects.
How long does a jewelry repair take?
Most repairs take five to ten days, longer if the repair is intricate or complex. All repairs happen in a secured off site facility, by the best goldsmiths in the area. Goldsmiths are artists who want to repair and restore your jewelry to its original condition, and while rush jobs may be necessary, we take time to do our work well. Thus our repairs are backed with a 1 year warranty- best in the region.
Do you sell Diamonds? How much do they cost?
Yes, we certainly sell Diamonds. We routinely have solitaire sized Diamonds in stock from .25ct up to 2cts+. We sell GIA, AGS, IGI, and NAGL certified Diamonds so that our buyers have peace of mind and know that they are buying an accurately rated and priced diamond. Some of our favorite shapes include modern round brilliants, oval brilliants, cushion modified brilliants, radiant cuts, pear shapes, emerald cut, asscher or octagonal step cuts, marquise cuts, heart shapes, etc. We even carry antiques such as old mine cut or old European cut diamonds.
Buy pretty! There is no right or wrong diamond to buy- it comes down to personal preference and budget. The one feature not to sacrifice on is cut- an excellent cut results in the sparkle you see. A great cut can hide a flaw, make a diamond look whiter, etc.- so we never sacrifice on cutting. From there, we stock a wide variety of colors, clarities, and types so that there is a Diamond for everyone. For example, some clients prefer diamonds that are very high grade and almost blue-white, in the DE grades, and are willing to pay the premium to get it. Other clients prefer some warmth in their stones, with a grade of KL color, especially if they are going to set it in yellow gold where the color will be less noticeable. We own the inventory you see in our cases- if we have put our money behind a diamond, it's because we believe in the merits of that stone and believe that it is a good value for our clients.
If we don't have the diamond in stock, we will act as a broker and find the perfect diamond for you. We guarantee that we can find the perfect diamond for you. We can often beat the prices of the big box store competition and provide better quality diamonds. There is no diamond too large, too small, or too rare for us to find.
We also carry lab grown Diamonds! Lab grown Diamonds are chemically identical to natural Diamonds, but grown in a lab instead of mined from the ground. We always have 1-3ct round and one or two fancy shape options in stock with easy access to thousands of other options. Come shop with us- our prices on lab grown are the best around!
What types of gemstones do you sell?
We are a natural colored gemstone specialty store. We have been buying and selling fine gems for over 60 years and have contacts around the world, including relationships with some of the foremost miners and cutters, which result in amazing inventory at great prices. We have over 3000 natural gems in stock, including:
Ruby from Burma and Africa
Blue Sapphire in all shades from Ceylon, Madagascar and Montana
Fancy Color Sapphire (pink, green, teal, yellow, purple, orange, yellow, etc.)
Opal (black and white Opal from Australia, Ethiopian crystal Opal)
Emerald from Colombia and Zambia
Beryls, including Morganite & Aquamarine
Tourmaline in every color (rubellite, indicolite, Paraiba)
Garnets, red and other (green Tsavorite, orange Spessartite, purple Rhodolite, rare color changing)
Chrysoberyl including cat's eye
Alexandrite from Africa, Brazil and Ceylon
Spinel of every color (red, pink, blue, grey)
Natural Zircon (blue, pink, green, gold)
Semi precious oddities like moonstone, sunstone, labradorite, ammolite, jade
Rare varieties (Tanzanite, kyanite, apatite, sphene, andalusite, etc.)
Diamonds- all shapes, sizes and qualities including fancy color
Do you carry Moissanite and lab grown Diamonds?
Yes! FWCJ has been a preferred retailer of Charles & Colvard Moissanite for over 25 years and has carried lab grown diamonds for 5+ years. We believe in giving our clients what they want, including an education in their options. There are many Diamond alternatives today, including lab grown options, along with natural colored stones. Moissanite is the most affordable colorless diamond alternative that has high hardness and durability and an authentic appearance. Lab grown diamonds are chemically & visually identical to natural diamonds, but grown in a lab, and sell for 70-90% below natural prices. While neither of these stones will be as valuable over time as a natural diamond, they make beautiful jewelry and are affordable alternatives. Make sure you shop with us before you buy online- we regularly offer better quality at lower prices than the online competition!  Contact us online or visit us for further education on your options.
Do you buy gold?
Yes we do buy gold! We are the South Sound's oldest and most trusted buyer of scrap gold and jewelry, having done so since 1955. We work directly with a refiner to offer our clients the highest prices on their gold. We buy scrap gold (including broken chains, damaged rings, dental gold and crowns, outdated items, etc.) as well as more precious items. We are happy to offer clients a cash rate or trade toward items or work in our store. If you have an item we can re-sell, we will pay above gold value.
Do you buy diamonds?
Yes, we do buy diamonds! As a fine jeweler, we are constantly on the hunt for Diamonds that we can re-sell or use in future custom work and repairs. As such, we pay top dollar for your diamonds. We love to buy diamonds under the following criteria: natural, over 1/2ct, SI2 or better clarity, K or better color, etc. We will consider diamonds GIA certified and uncertified. We will make offers on diamonds outside the above criteria on a wholesale basis, including smaller melee diamonds, included stones, etc.
Do you buy gemstones?
Yes, as a colored gemstone specialty store Federal Way Custom Jewelers would love the opportunity to buy your natural gemstones. We are picky about what we buy, and we look for the finest examples. The gems that command the highest offers include large and untreated sapphires, rubies, emeralds, and alexandrite. But we also make offers on fancy-colored garnets, like tsavorite and spessartite, tourmalines like rubellite and Paraiba, solid black and white Opals, spinel, tanzanite, and other rare varieties. If you need help identifying a gem, we can help, and we are also happy to evaluate larger collections by appointment.
Do you buy antique jewelry?
Federal Way Custom Jewelers has been a trusted buyer of antique jewelry, and any precious metals, for over 40 years. Our GIA-trained staff will evaluate each piece individually, and work with you to determine the best way to sell your items for the best prices. Sometimes selling the items to us is the best route, as we pay high prices for items we can resell in our estate cases. Other times selling the items at estate sales, auction, or online makes the most sense. We are happy to evaluate your items and advise accordingly. That said, we tend to pay the most for original antiques from the Art Deco, Edwardian, and Victorian eras, as well as vintage diamond rings, colored gemstone jewelry, and signed items from names like Tiffany, Cartier, Van Cleef & Arpels, etc. See this page for more information.
Do you resize rings?
Yes, we size rings! The most common repair service requested at Federal Way Custom Jewelers is the resizing of clients' rings; whether too big or too small, gold or platinum or silver, plain band or 2 carat diamond ring, resizing is a service that is often necessary and we are happy to help. We price our sizing work individually based on the amount of size change, type of metal, width of band, number of gems in the ring, complexity of band, and overall condition. Sizing can cost $40 to $400 with an average in the $49-199 range for most rings.
What type of repairs do you offer?
Our master goldsmiths undertake almost every repair. This includes, but is not limited to
Prong replacement, head replacement
Prong retipping and repair
Missing diamond or missing stone repair
Gold polishing and cleaning
Rhodium plating, antiquing, and other custom finishes
Inside ring engraving and custom surface engravings
Shank crack soldering, and re-shanking
Soldering wedding set together
Straightening bent shanks and posts
Replacing earring posts and backs
Laser soldering for complex or delicate items
Chain soldering and jump rings
Fixing and untangling broken chains
Clasp replacement
Pearl and bead restringing, hand knotted
Epoxying pearls
Ring sizing and arthritic shank installation
Polishing gemstones and re-faceting gemstones
Replacing missing inlay pieces
Do you offer financing?
Yes, we offer two financing options for our clients. In-store, we offer CitiBank same as cash financing for 6-18 month terms depending on the item. Minimum purchase of $1000 applies. Applicants apply for credit through our store and receive on the spot approval or denial and an exact amount for their line of credit. We pay the interest for 6, 12 or 18 months depending on the purchase price. The client must be present in store to apply, and get to take their item home as soon as it is completed (same day for items in stock). Payments are made directly to CitiBank.
Online, clients can choose to pay via PayPal. If they choose PayPal, they can choose PayPal financing with terms up to 6 months depending on the item and purchase price. This service is offered via PayPal on our online items only.
Lastly, we are one of the last shops to offer an in-house layaway program. This exciting program allows clients to choose an item (in stock, repair, or custom design) and have up to three months to pay. We require 25% down and 25% per month for up to 3 months. The item remains with FWCJ until the item is fully paid, at which time the client can pick up their item. No credit approval required – we simply ask that you maintain current and regular payments. Clients are welcome to make payments in person or over the phone. We refuse the right to refuse layaway at our discretion.
Do you offer appraisals?
Yes, Federal Way Custom Jewelers offers expert jewelry appraisals. Most clients looking for an appraisal need a legal written document, either for insurance or estate planning, giving a retail replacement value. For the most accurate valuations with no conflict of interest, we outsource our appraisals to the eminently qualified North American Gem Lab in Bellevue. Items are taken to the lab by courier, appraisal takes around a week, then the client can pick up their item and appraisal once complete. This removes any ethical concerns of retail jewelers appraising items themselves- which is a practice our industry now avoids. Appraisal costs vary by item and quantity- contact us for details.
Many clients seeking appraisals are looking for something more casual. Maybe they were gifted an item and they want to know if they need to get it insured. Maybe a ring was found and they want to know if it is real or fake, and get it authenticated. Other clients are really looking to sell their items, and are looking for us to make secondary market offers on their items- not an appraisal. We are happy to help clients by giving casual verbal identification and secondary market valuation while you wait, and we can make offers where appropriate. In the rare instance that we are unsure of an items origin or value, we will recommend further documentation from the Gem Lab.
All purchases over $1500 come with a complementary appraisal from the North American Gemological Labs. This provides our clients with additional information on their items, and gives them the necessary documents to insure their jewelry.
Do you offer insurance or a service plan?
No. All items sold or repaired come with a 1 year warranty unless expressly denied warranty in writing at time of sale. We do not believe in selling service plans- jewelers who do so often find ways not to honor these service plans. We believe that our warranty is sufficient to cover our workmanship in the short term.
In the long-term, we recommend that all clients insure their jewelry, especially items that are regularly worn. To facilitate this, we offer appraisals through the North American Gem Lab which are complementary on all purchases $1500 or more. From there, we advise full coverage insurance on your items, to cover loss, theft, and damage. We have found the best personal coverage through Jeweler's Mutual Insurance. Clients with USAA, Amica, Travelers, and Chubb may have good options too. We are happy to advise on all matters relating to jewelry insurance coverage and replacement.
Do you have a referral program?
We value all referrals to our store, and word of mouth is our most important advertisement. When a client refers another client to our store, and the new client spends $500 or more on their first purchase, we will give the referring client a cash credit of 5% of the purchase price-with no limit! This cash credit will remain on account and can be used for any new purchase of in-stock or custom jewelry. The referred client must be a totally new client to our store, and the credit generated from their purchase will be reversed in the event that the purchase is refunded.
Do you take trade-ins?
We are happy to consider any fine jewelry, precious metals, scrap, antique jewelry, diamonds, coins, etc. as trade toward any purchase in our store. If you choose to purchase or create a new item, or even a repair, we will give you the full market value of the item(s) as a store credit toward that purchase. This is often the best use of old or unwanted jewelry, as it allows you to get something new that you will love to wear. If the items are sentimental, we can reuse some of the materials or diamonds in a new custom piece, and use leftover materials as a cash credit. We are happy to advise you as to the best uses of your items and give recommendations based on your taste and goals.
Diamond Trade Up Policy
We understand that tastes and budgets change over time, and we encourage our clients to buy and wear jewelry that they truly love. To help our clients toward future purchases or ring upgrades we offer a diamond trade-up program for any diamond purchased at our store over ½ct in size and in good condition. To qualify for the trade up program the new diamond must be twice the original purchase price or more, in which case they will get the original purchase price for the diamond, less taxes and mounting fees, as a credit toward the new diamond. If the client does not return the original laboratory certificate, such as GIA certification, the cost to replace the documentation will be deducted from the trade credit. The diamond trade-up program can always be used as a credit toward in-stock diamonds, and can sometimes be used for special ordered diamonds if approved by management. We do not offer a trade-up policy on lab grown diamonds or moissanite at this time.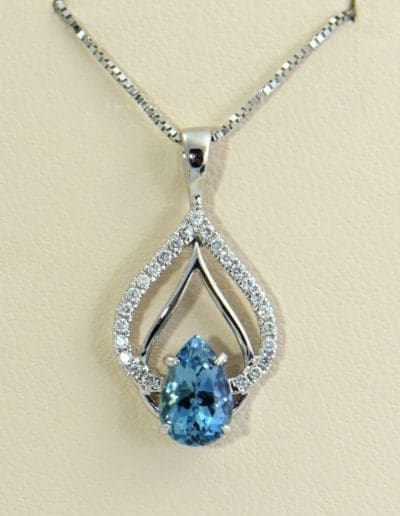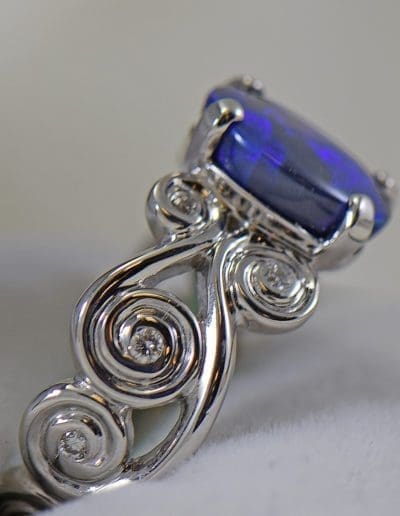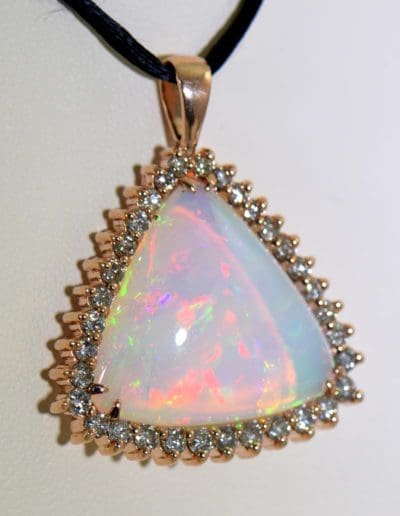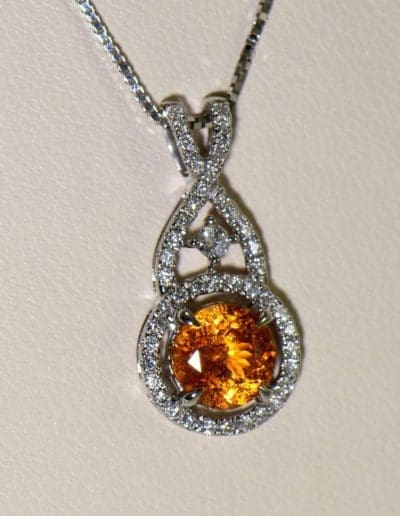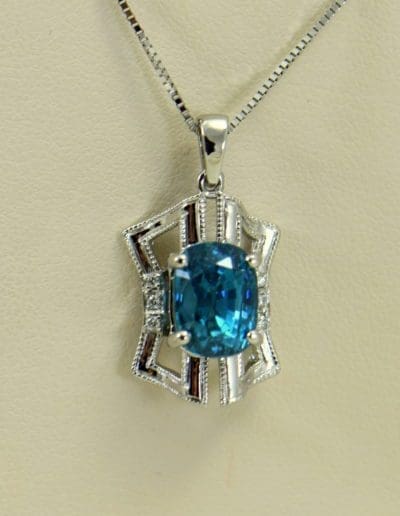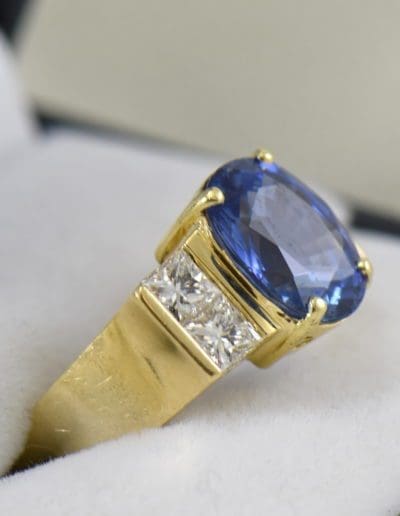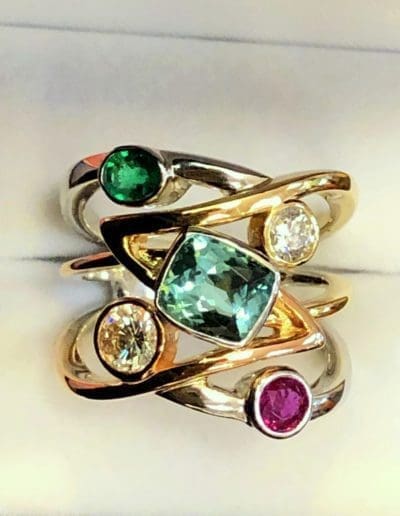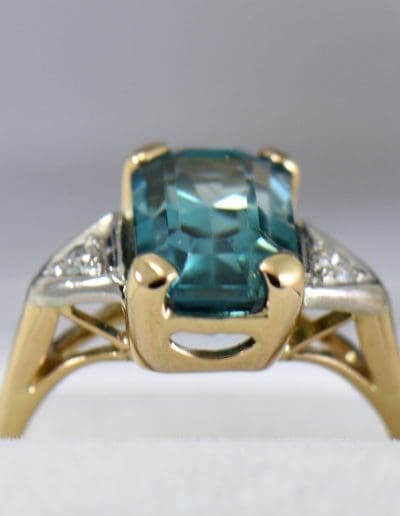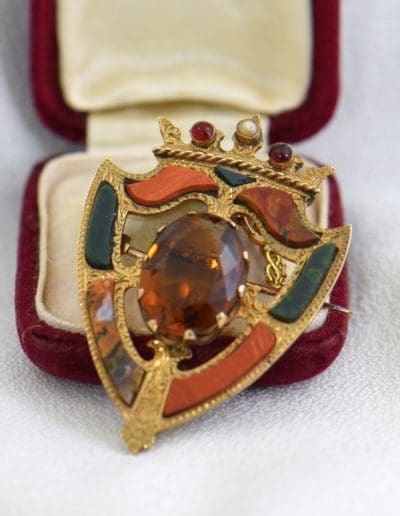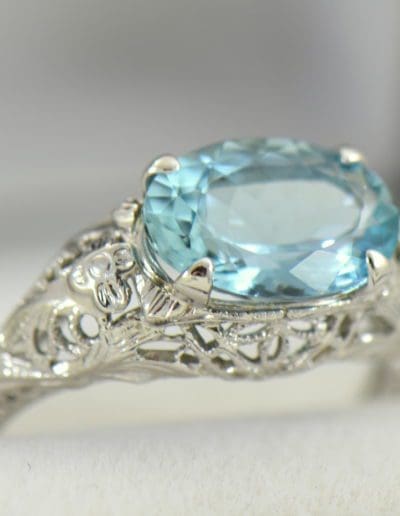 Warranties/Layaway/Returns
Do you offer a warranty?
We guarantee everything we make, repair or sell for one (1) year from the date of delivery unless otherwise noted here or in writing to the client. This means we guarantee the parts that we make or repair will not break in the areas in which we have worked. We do not cover lost gems as a part of this warranty- only parts and labor to repair an item. Items in our care for repair and/or appraisal are covered against loss by our insurance policy, Federated Insurance, to replace said item with like kind and quality. We are not responsible for items left in our care after 30 days from completion of the work, unless prearranged with management.
In order to guarantee the work we do for 1 year from the date of pickup:
Our jewelers take time to check and tighten all stones to guarantee against loss.
It is our policy to rhodium white gold restoring it to its original beauty.
We will professionally clean and machine polish all gold, silver and platinum jewelry.
Our expert goldsmith may make recommendations for further repair to assure the lasting integrity of your jewelry.
Items and repairs not guaranteed:
Glued or epoxied items
Enameling and antiquing
Gold or Rhodium plating
Loss of diamonds and gemstones over 1/4ct in size
Loss of any prong set stone that has shared prongs or invisible setting with other stones
Loss of any gemstone from a mounting that was not made by Federal Way Custom Jewelers
Any items/repairs that do not come with our warranty will be disclosed prior to sale
We will not guarantee any repairs in which the client chooses not to address:
Loose stones of any kind
Chipped, heavily included, or damaged stones of any kind
Prong-set stones that have thin prongs, missing prongs, or stones that are set crooked
Bead or pave setting where the beads are badly worn or some beads are missing or a stone is sticking up beyond the surface of the metal
Channel setting where either the channel is very thin, torn, not straight across the stone or there is no support underneath the channels to hold them together.
Bezel setting where the bezel is too thin, torn or the stone is set crooked
Cracked shanks or under-galleries
Bracelets or chains with worn links, rings or clasps
Items that show signs of shoddy prior repairs
Specific Guarantee for Diamonds and Gemstones
We do our best to educate our clients about proper jewelry upkeep and care advice for particular gems. If you have any questions or concerns about an item, please ask us prior to wearing the item. We do not guarantee that a diamond or gemstone we sell will not chip, break, scratch or fracture in the future. No stone, including a diamond, is impervious to damage. We always recommend insuring your jewelry to cover any possible damage or loss.
Specific Guarantee for Ring Sizing
Rings purchased from us will receive one no-charge ring sizing (within two sizes) valid within 60 days of the client taking possession of the ring.
If we size the customer's actual finger and the size is incorrect, we will resize the customer's ring at no charge within 30 days from date of delivery.
If we size a ring to the customer's requested size or the size of another ring the client owns, without sizing the actual finger the ring is to go on, and that size is incorrect,  there will be a minimal fee to resize the item.
Please note that the size of a ring will not change, but sometimes due to diet, medication, the weather or weight a customer's finger size can change, changing the fit of the ring
Specific Guarantee for Visual Inspections and Verbal Valuations
When asked, we clean and check jewelry at no charge. We try to locate any problems that may be occurring with the item. Many items that appear to be wearing "OK" today could have a problem days or weeks later. We can only guarantee items that we actually repair, not those that we have only visually inspected. This includes checking stones for tightness, prongs for wear, wear on links, bails, rivets and solders, etc. We are also sometimes asked for a casual estimate of value. This verbal estimate is our opinion only, is not a legal appraisal, and we hold no liability for any losses as a result of our valuation.
Do you clean jewelry?
Yes! We offer free cleaning on up to 3 items while you wait! Our store has full cleaning facilities, including a polishing wheel, ultrasonic cleaner, tarnish remover, and jewelry steamer. We can use these to professionally clean almost any item, free of charge, and we are happy to do so! This comes with a complimentary inspection to make sure there is no damage or wear concerns. In the event of damage, we will tell you prior to cleaning the item, and make recommendations to remedy the issue. In rare occasions, some items need to go to our hot shop for the best cleaning- this includes heavy chains, some platinum items, and some complex mountings; on these items, a small fee may apply for cleaning or refinishing services.
What is your return policy?
All purchases of pre-made and in-stock jewelry come with a 30-day money-back guarantee and a 30-day return for store credit guarantee. We want our clients to be happy with their items and to love their jewelry. If you are unhappy for any reason, please contact us. We do not accept returns for a) custom made jewelry b) clearance items c) special ordered items or d) items that have been modified in any way (engraved, sized, etc) and e) items purchased under outside finance; unless specified in writing by management at time of sale. For items purchased via our website, www.fwcj.com, qualifying returns will be credited less shipping and handling costs, and must be in un-altered condition. All returns must be brought in person to our store or shipped, insured signature required, to our listed address.
What if I'm unhappy with my custom piece?
We understand that during the custom design process it can be difficult to imagine the exact end result of a design. We do our best to keep things visual and to keep our clients engaged in the design process. If for some reason you are unhappy with the end product of our work, please let us know. Often times we are able to adjust the item without having to redo the entire project. In the event that the item has to be remade, there will be no additional charge to remake an item within 30 days of the delivery date of the same item unless the modification costs more than the original design. Example: Customer who spent $400.00 in the beginning has something remade that now costs $550.00, we would simply add an additional charge of $150.00. This remake guarantee can only be used once per design or project and can only be used when the issues with the original design were due to our oversight, error, or workmanship (we will not remake an item if the client has changed their mind regarding a previously approved design).
How much does shipping cost?
All online orders come with free shipping and handling. All items ship with full tracking and insurance and come in a complimentary gift box.
What shipping carrier do you use?
All online purchases $250-$25,000 will be shipped via USPS Priority Mail Express, tracked and insured, with signature required at time of delivery. This is a 1-3 day service depending on delivery location in the continental US. All online purchases over $25,000 or rush ordered (for a fee) will be sent FedEx overnight, tracked and insured, with a signature required at time of delivery. See store for details.
What are your shipping policies?
All items will be shipped in a new jewelry box then securely packaged. Gift wrapping is available on request. Minimum online order size is $250. Items must be paid in full with funds cleared prior to shipping. All orders have a 24 hour processing period. We will contact the purchaser within 24 hours of the purchase with a receipt and shipping details. The only exception is orders placed on Saturday evening through Monday evening, which will be processed the following Tuesday. For custom orders or orders that include a service (such as sizing or appraisal) we will contact the purchaser with an updated handling time. Please allow 3-10 additional business days for these modifications. For orders placed in advance of a major holiday (Christmas, Valentine's, etc.) please place the order at least 1 week before the holiday to allow for handling and shipping time. We are not responsible for any missed deadlines that result from orders placed to close to a major holiday. Items in our custody and shipped by us are insured at all times by our Federated Insurance Block Policy. Contact us if you have any questions about this coverage.
Will I be charged sales tax?
Buyers will be charged Washington sales tax which is added to your invoice. Items shipped to other states or countries may incur additional duties or taxes unknown to us which are the responsibility of the buyer.
What areas do you ship to?
We only ship to US and Canadian buyers.
Where is your store located?
1810 S. 320th St. Suite B
Federal Way, WA 98003 USA
Halfway between Tacoma and Seattle, ½ mile west of I5 on 320th, between Trader Joe's and Crumbl Cookie.
What are your store hours?
Tuesday – Saturday 10am – 6pm
*Open Monday by appointment- message us for details. Closed major holidays.
Appointments are preferred such that we can best serve you in a thorough manner and in a safe environment. We do our best to accommodate walk-ins on a first-come first-serve basis but recommend appointments for custom design consultations, selling jewelry, or complex repairs.
Do you offer a military discount?
Yes! All active duty military and veterans of US armed forces and police receive 15% off their purchase of in-stock items, up to $1500 off. Discounts off of repairs and custom orders are on a case-by-case basis. We thank you for your service.
Do you have sales or other discounts?
Sometimes! Sales happen randomly throughout the year, on different products and types of services. Check in-store and online often for the next scheduled sale or special event. Additionally, we always have a clearance section, routinely, updated with exciting new finds!
We believe in the value of our jewelry and our expert craftsmanship. We are a family business with low overhead and we pass our savings on to our clients. If you have a budget in mind, we are happy to work within your pricing where possible. We regularly price our items below market to maintain a loyal following.
Non-discrimination statement
At Federal Way Custom Jewelers, all are welcome. We do not discriminate based on race, age, creed, gender, sexual orientation, religion, military, employment status, or any other factor.
FWCJ is a family friendly business, and children are welcome to join you at your next visit.