Who We Are
Federal Way Custom Jewelers (FWC Jewelers or FWCJ) is a full-service family jeweler serving the greater Seattle area since 1955, where we are known for our amazing custom design work, top quality repairs, and interesting inventory. Our brick-and-mortar store is located in Federal Way, WA where we are the oldest family-owned retail business in the area, run by third generation jeweler Sean Criss and business partner Brandon Jenkins Moak. Our online store serves a global clientele of gemstone lovers and jewelry aficionados with the same commitment to quality and service.
In-store, we have developed a curated collection of fine jewelry, engagement rings, diamond gifts, gemstones and unusual antiques to select from. Whether you are shopping for an antique or designing a ring from scratch, jewelry is visual, it is subjective, and it is comparative, and FWCJ offers a low-pressure environment to find the perfect piece. We take pride in the unique and fun in-store experience we offer clients in addition to the selection found online.
Ultimately, we believe that everyone should be able to own beautiful jewelry that is a statement of their personal style. We provide the space and diversity of inventory that allows our clients the freedom to find the perfect piece; whether they find it in the case or whether the items in the case are inspiration for their next custom design. In our custom jewelry, we use a combination of modern technology and old-school craftsmanship, honed over the last 68+ years, to craft our beautiful creations.
In addition to the pieces we sell, we are also honored to work with pieces our clients already own. Whether we are remounting an heirloom diamond or restoring an antique for the next generation of wear, preserving sentimental value is one of our most important roles. Our master goldsmiths take the time necessary to do each job correctly, and thus we undertake most any custom or repair project, big or small, and stand behind our work. In addition to these services, we also offer estate advising, gold & jewelry purchasing, gemstone identification, and ethical independent appraisals for our clients. We look forward to working with you to earn your business and trust.
Quality
We believe that jewelry should be beautiful and lasting; thus, we make and sell jewelry of the finest quality. Our custom work is designed individually and produced at our local master goldsmith's hot shop, where each piece is made by hand by expert craftsmen. Each piece of inventory in our cases, from an antique ring to a loose Diamond or Sapphire, is hand selected for its unique beauty, and we select our gems, diamonds, and antiques from the finest quality of available pieces.
Beauty
Our clients expect their jewels to dazzle and we aim to please. Our varied inventory reflects the diversity of tastes from our clientele, but all have a beauty and charm of their own. We can also make an item to meet your beauty standards. No matter the item, what is common among our jewels is attention to detail, fine gemstones, expert craftsmanship, and a product that is a piece of jewelry art. A beautiful piece of jewelry is timeless, and will look fantastic for decades to come.
Value
Jewelry is an investment in personal style and can also be a celebration of life's milestones, so we want to maximize our client's budgets to make jewelry in reach for everyone. At every opportunity we work directly with our sources, eliminate middle men, offer estate items, etc. to offer competitive prices without sacrificing quality. Our custom work and repairs are performed with skill and quality materials such that they look beautiful for the long term, yet we use recycled materials, accept trade-ins, etc. to help lower our client's out-of-pocket costs.
Knowledge
The FWCJ staff has a deep and varied knowledge of jewelry and we are happy to share it with our clients. Our staff is GIA-trained with a combined 60 years of gemology experience, and maintain membership in several trade organizations for continued education and learning. Whether you are looking to make a purchase, or simply need some jewelry advice, our knowledge is a resource for our clients. Read our employee bios by scrolling down this page. 
Service
We strive to offer our clients the best possible online shopping and in-store experience, and do our best to treat every single client fairly, respectfully, and kindly. We stand behind our work: we have a 1-year warranty on our custom work and jewelry repair, and a 30-day return policy on in-stock items. We believe in full disclosure: we put item details in writing, and back them up with independent appraisals and/or lab certification. If you have any concerns on our work, an item, or a customer service issue, please contact us and allow us to correct it. For more questions, see our FAQ.
Trust
Federal Way Custom Jewelers takes your trust seriously. We believe that our reputation, both in the community and online, speaks to our skill and ethics. All items left with us are fully insured, and we take steps to document your items and protect both parties. We follow ethical guidelines set forth by Jewelers of America, the Retail Jewelers Organization and American Gem Trade Association. We are always happy to meet prospective new clients and discuss potential projects prior to the work.
Our Story
FWCJ was founded in 1955 and is the oldest small-business in the Federal Way area. Originally located in the 'Olde Federal Way Shopping Centre,' where H-Mart and PetCo stand today on Highway 99, the business originally focused on jewelry gifts. The store was purchased by Rene Criss in 1980 and he quickly developed a passion for colored gemstones and a reputation for impeccable custom designs and engagement rings. He expanded to our current location on 320th Street in 1994, where we had more space to showcase our pieces and meet with clients in comfort. The new store was designed to welcome clients of all ages, budgets, and jewelry experience in a comfortable and creative environment. Rene married Lorraine in 2002, and they became partners immediately. She helped modernize the store and the new partnership led to rapid growth of the company.
2007 was a momentous year for Federal Way Custom Jewelers. In that very same year Rene's son, Sean Criss, started working in sales at FWCJ, learning under our master goldsmith and his father all the skills he would need to be a jewelry repair expert and designer. Later in the year Brandon Jenkins Moak – a young local gemstone collector – would begin working at the store part-time in operations & purchasing. Over the last 15 years Sean and Brandon each developed unique skills in the jewelry industry, becoming indispensable at FWCJ. In 2022 this dynamic duo took the helm as the new ownership team of Federal Way Custom Jewelers.
Sean and Brandon are honored to be trusted members of the Federal Way community and are proud that Federal Way Custom Jewelers has become South King County's number one jeweler and a destination store in the region. They are excited to continue Rene's legacy of fine jewelry and impeccable taste, while expanding the store's product and service offerings. Our clients, new and old, will continue to see FWCJ deliver the highest quality jewelry & expert repairs, all with pricing and advice that our clients can trust. We believe that a good jeweler should be like a close family friend, a trusted partner who is there to help you celebrate all of life's milestones.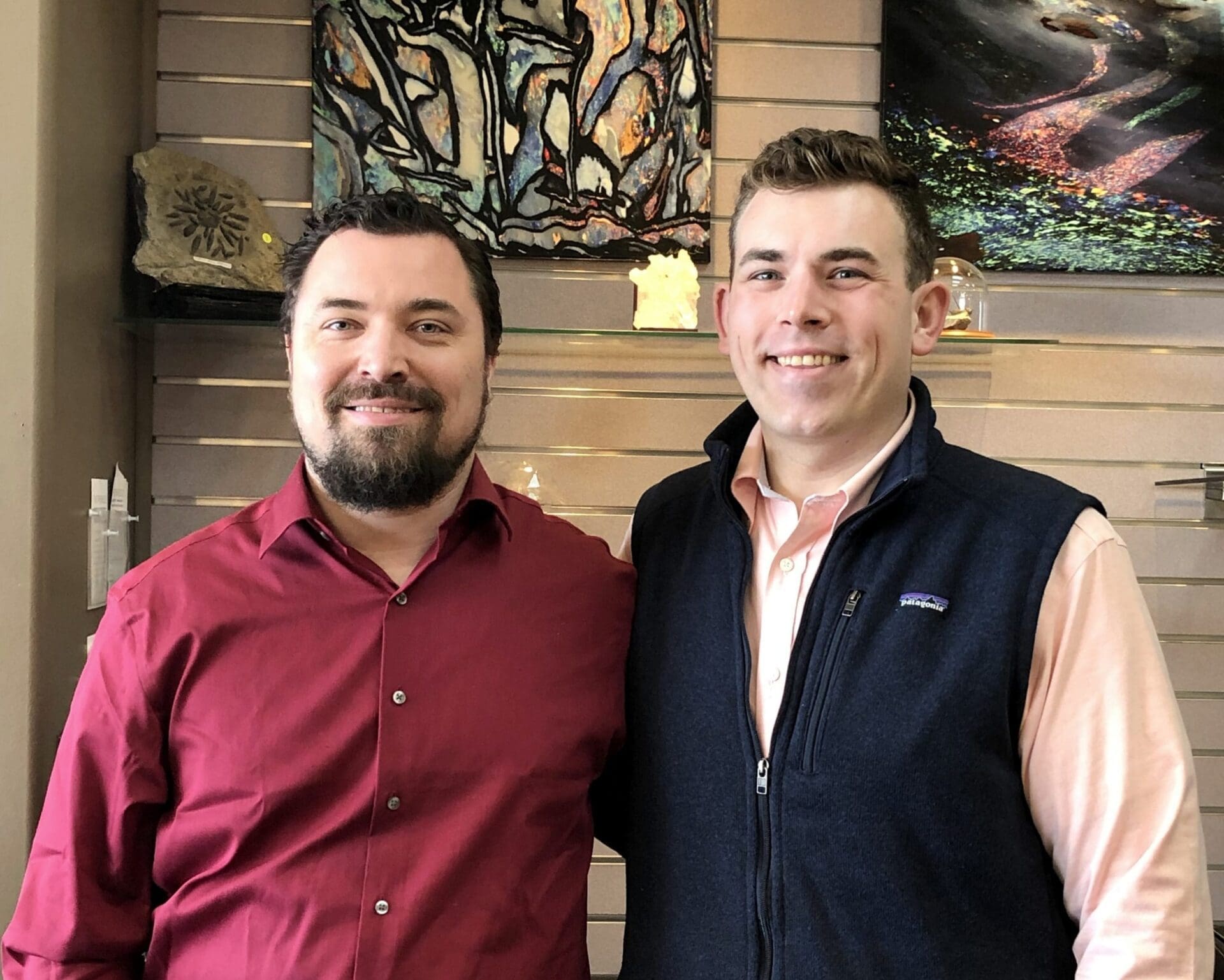 Sean
Sean is our co-owner, one of our jewelry design specialists / repair experts and the longtime face of FWC Jewelers. He has been with us for 16 years, and as Rene's son, he literally grew up in the business. He is a GIA Accredited Jewelry Professional and has a passion for colored gemstones and diamonds. He is also one of the kindest souls we know, with a charming wit and great sense of humor. If you like to have fun, come meet Sean- you will certainly leave with beautiful jewelry and a smile!
Sean would describe his design aesthetic as eclectic, since he is known to personally sport modern ceramic rings, mid-century watches, and Victorian brooches. He has worked with thousands of clients through the years, designing everything from engagement rings and wedding bands to memorial jewelry and graduation gifts. There is no custom project too big or too small, and Sean is the expert to guide you through this process. He is a wonderful advisor to have on your side during any custom jewelry project- need meteorite inlay? How about a galactic wedding band? He's your man!
Sean is also a pro at jewelry repair and restoration. As a third-generation jeweler, Sean knows firsthand the value of sentimental items and the importance of reputation and integrity when it comes to repairs. Sean likes to give clients options and advice such that they can make the best decisions for them when they need a repair, or to restore a family heirloom. From sizing a ring, fixing the prongs on your Diamond, to restoring Art Deco engraving- Sean can help determine the best route forward for a lasting fix.
Sean's favorite gem family is also his January birthstone: Garnet. He is a particular fan of Tsavorite, the rare green Garnet variety. That said, Sean is known in the Federal Way area for his Sapphire engagement rings, his Black Opal designs, and his work with other rare and exotic gemstones. Sean has even been known to custom facet gemstones for clients' use in future projects. Sean is our colored gemstone expert and is willing and able to identify colored stones for our clients, or help them source the perfect gemstone for their next project.
Most importantly, Sean will become a valued advisor and trusted friend after your first experience working with him. He values our community and is always willing to lend a hand and help clients, with jewelry or in a time of need. That said, he is funny to boot- so don't expect him to take himself too seriously. Outside of the office, Sean enjoys spending time outdoors, boating, cooking with friends and family, all things sci fi & fantasy, and his two cats.
Brandon
Brandon is our other co-owner, General Manager, gem nerd, antiques expert, factotum polymath, etc. He has been with us in different capacities since 2007 but has led the store since 2015, when he completed a degree in Molecular Biology at Seattle University and the Accredited Gemologist program from the ISG. Brandon has attended numerous tradeshows, gemology conferences and appraisal workshops and has written articles for several trade magazines. Brandon is passionate about the science of gems and gemological evaluation and the history behind period jewelry.
Brandon's most important role at FWC Jewelers is as our primary buyer. Since Rene's retirement, Brandon has acquired all of our colored gemstones and new jewelry inventory. Since 2016, Brandon has developed our curated collection of antique and vintage jewelry in the much-loved 'estate cases' which contain a myriad of amazing baubles- spanning 250 years of history! In addition, Brandon is our primary Diamond buyer and assists our custom design staff in sourcing GIA-certified natural and lab-grown Diamonds for our designs: he loves to be 'on the hunt.'
Brandon also offers our Estate Advising Service. Many of our clients need help sorting through their collection of fine jewelry; some are preparing to distribute items to their friends and family and want help establishing value and restoring items before they do; others are representing an estate and need help valuing items for probate or selling them. Brandon is an estate jewelry expert and is happy to advise clients as to the value of their items and the best ways to sell them. As a result of these situations, we also work with many younger heirs who need help learning about items they have been left, or who maybe want to sell some items, restore others, or even re-design some into more current and wearable styles. Brandon is happy to help guide our clients through some of these more difficult jewelry decisions.
While Brandon is not primarily a salesman or designer, he does enjoy working with the occasional client or witnessing Sean and Donna's designs come into fruition. His favorite gemstone? Well, that's a tough one. He would say either Red Spinel or Black Opal. Brandon has been collecting gems and minerals since childhood, with family members who were in the industry and were collectors who facilitated his passions. Brandon is often seen wearing an unusual gent's ring with a colored gem, and is always wearing a brooch or stickpin in a figural design.
Outside of the office, Brandon & his wife Gina like to stay involved in the community. Brandon is on the board of directors of the Federal Way Symphony Orchestra and South Sound Live! Performing Arts Group; and on the City of Federal Way Economic Resilience Taskforce. In his spare time, Brandon is an avid horticulturist, enjoys cooking, traveling (Scotland is his favorite place), collecting art & jewelry, and spending time with friends and family.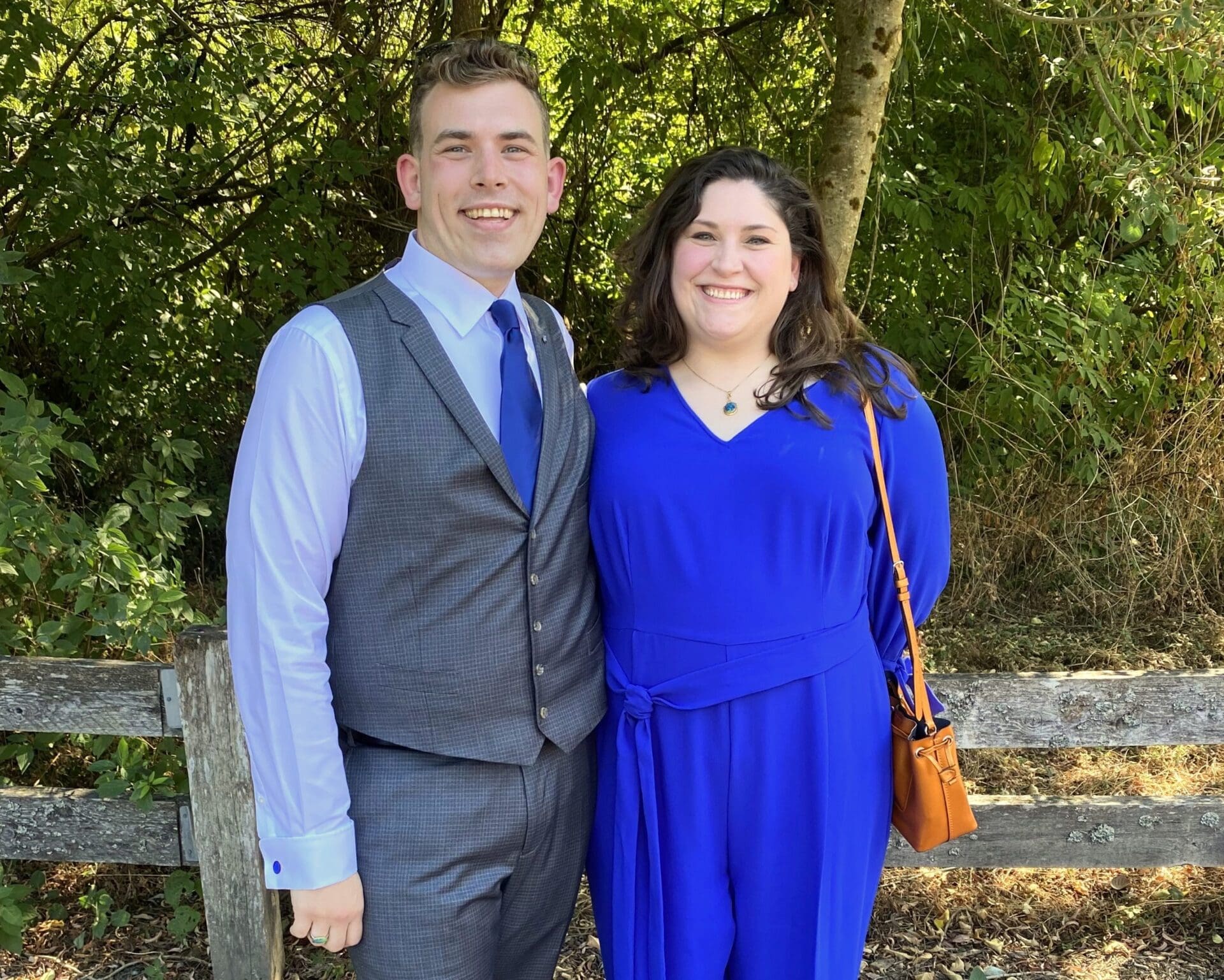 LaDonna
Donna is our resident Diamond expert and one of our jewelry design specialists, while also serving as our primary estate jewelry and gold buyer. She completed training at the GIA with an Accreditation as a Jewelry Professional and additional diamond & pearl coursework, in addition to having an Associate's Degree in Veterinary Science. Donna has been with us over 13 years, but has 25+ years of jewelry experience including time in jewelry manufacturing & quality control.
This in-depth knowledge of jewelry manufacturing and repair techniques gives Donna experience and skills unique in our industry. If you have an unusual custom project or complex repair in mind then Donna is the one for the job. She will take the time to explain the custom fabrication process, the nuts and bolts of how we make or fix our items, such that our clients better understand their jewels. She has 'the eye' and knows how to successfully guide these projects to completion. 
If Donna were to describe her aesthetic, she would say she has two passions: she loves the clean lines and understated elegance of classic designs, but she is also charmed by antique items. We see these interests come through in her designs- from amazing custom engagement rings to one-off projects inspired by Art Deco, Edwardian and Victorian baubles, each of her designs tells a story. Donna has a passion for taking her client's ideas and wish lists and turning them into a cohesive and beautiful design, then turning the design into reality. 
Any guess as to Donna's favorite gem? Diamonds, of course! They are sparkly and go with everything, and they are certainly her best friend. Her own wedding ring features a 1.50ct radiant cut Diamond, but she loves all shapes. Donna is skilled at Diamond grading and can help clients learn the 4C's of Diamonds and prioritize the features that matter most to them and result in the most beauty. Donna is also our trusted estate advisor and gold buyer. Her passion for antique jewelry gives her a wide and deep knowledge of vintage jewels and she is happy to authenticate and value items for our clients, whether they are looking to sell or simply curious.
Once our clients get to know Donna, it becomes evident that she quiet but confident, and an expert in her field. She is a wonder, and we are lucky to have her on our team. Outside the office, Donna enjoys taking her camper into the beautiful outdoors with her grandkids and two Pomeranians (often seen in-store, Frodo & Sam), as well as gardening, traveling, reading, and learning about just about anything, which she later uses to smash her competition at Trivia Night.