Recently Inherited Jewelry? Want to learn more about your heirlooms? We are here to help. 
On our Estate Advising Service page, we describe the services we offer to people planning their estates, trusts, or wills or the executors handling the items from an estate. But what happens next for the heirs and family members who inherit the items themselves?
Whether you have recently been passed a single treasured family heirloom or are an heir who has recently inherited an entire collection, we can help you determine what's next. Our GIA-trained jewelry experts are here to help our clients answer the following questions: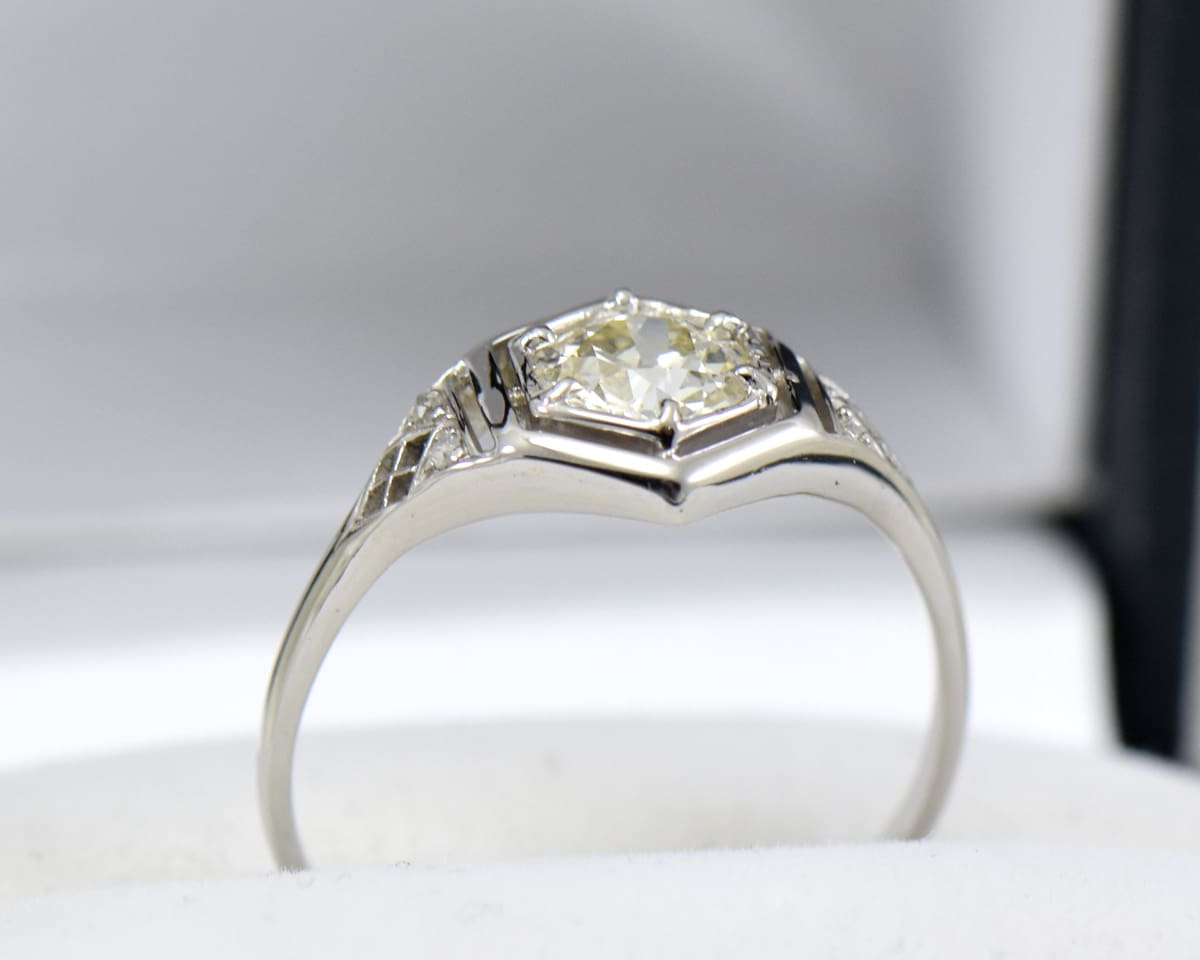 Can you tell me more about my heirloom piece? When/how was it made? Is it high quality?
Yes! We are happy to teach you more about your heirloom jewelry. Most pieces of jewelry contain a ton of information: the method of manufacture, the materials used, the gems present, the cut of the diamonds, the style and aesthetic details, even makers marks and hallmarks, which in combination allow us to determine where and when an item was made, and sometimes even who made it! From there, an analysis of the item and the gemstones present allow us to determine the quality of the piece. All of this can then be shared with you, the new owner, and we can help you determine the best next steps for your pieces.
How can I tell if the item I inherited is real or fake? Authentic or costume?
Sometimes there are tests one can do at home to determine if a piece of jewelry is costume, or fake. For example, no fine jewelry is magnetic, so magnets can remove fakes from a collection of fine pieces, though this is by no means an exhaustive result. It is usually best to let our GIA-trained experts determine if an item is real or fake, and identify the type of item you have, which we will do free of charge. Sometimes this is easy for us to do, simply done with a loupe and years of experience, other times we need further tests and equipment to figure out what you have.
What is my heirloom jewelry worth? Individually or as a collection?
Most heirs find themselves inheriting several pieces of jewelry from the same estate, all across the board in terms of value. We can help you determine which items are high value, which are mid value, and which are low value. Our experts can help value an entire collection, or work on a single piece. Read more about our appraisal services here. 
How would I go about selling my heirloom, or a portion of the pieces I inherited?
Many clients inherit more jewelry than they need or want, so clients choose to sell or gift a few of their pieces. Our experts are happy to help authenticate, evaluate, and advise on the items you wish to sell. Sometimes selling the item to a jeweler like us can be a great option- if you want us to make an offer, please tell us up front so we can remove any conflict of interest in working with you. Other times, we look at an item and determine that it should be sold on the private market, like at an estate sale or auction. We can help you find a way to maximize the value of your jewelry assets. Typically, items for resale are sorted into the following categories, and we advise accordingly:
High value items, like fine diamonds, original antiques, estate jewelry in good condition, high end coins & Swiss watches, and rare gemstones. These will be valued based on their potential resale value. Items over $5-10k in value may need additional lab work.
Mid value items, like worn estate jewelry, damaged gold, platinum, and silver scrap items, outdated antique or estate jewelry, signed or vintage sterling items, lower quality loose diamonds and gemstones, etc. These items are valued for their materials value, such as the weight of the precious metals and the value of the component parts, like the diamonds, on the wholesale market.
Lower value items, like vintage costume jewelry, newer fashion jewelry, gold plated or lightweight sterling items, quartz watches, beaded pieces, etc. These often need to be sold at estate sales, gifted, or donated due to the low resale of the items.
Do I need to get my heirloom appraised for insurance purposes?
If you do inherit fine jewelry that you plan to keep and wear, the smartest thing to do is keep the item insured. While one can never replace sentimental value, the best peace of mind comes from wearing a piece of insured and well-cared for jewelry. To do this, the item needs to have been appraised by our local gemological laboratories. Once the appraisal is complete, our experts can advise you as to the type of insurance you need and the available companies we recommend for jewelry insurance.
Can my heirloom ring be sized to fit me? Can we make my heirloom jewel fit me?
The best heirlooms are those that can worn and enjoyed on a daily basis. FWC Jewelers is here to make sure that your Diamond Ring fits and that your gold watch doesn't fall off your wrist! Our master goldsmiths are fully qualified to size rings and modify other items to your standards. Has the ring been sized before? Does it have a modified shank? No problem- we can help you. The same thing goes for other items you wish to fit correctly; simply bring the item into our shop and we will work with you to determine the perfect size for security, comfort and convenience. Our sizing work typically takes around a week to complete- contact us for more information.
Are my heirloom pieces in good condition? If not, what needs to be done to repair them?enev
Whenever possible, heirloom jewelry should be kept in good condition for safe, worry-free wear and enjoyment. Sometimes we see clients with heirlooms in perfect shape, and we can simply clean them and send you on your way. That said, many of the items we see need TLC. It is thus up to the next generation to restore their heirloom sapphire ring, retip the prongs on grandma's diamond, restring great aunt's pearls, etc. Our jewelry experts will evaluate each of your heirlooms and grade them based on quality and condition, such that you can prioritize the restorations. From there, our master goldsmiths will correct any damage and breathe new life into your item, such that you can wear your heirloom worry-free.
Do you offer repairs or restorations of antique and estate jewelry?
Yes! Our jewelry repair experts and master goldsmiths can undertake any repair project or antique restoration, big or small. From $30 chain repairs to $3,000 diamond replacements in an antique ring, there is no project too involved for our experts to undertake with skill and care. If your project is unusual or complex, we will sometimes work with our goldsmith on an estimate prior to quoting the work. That said, most repairs take less than two weeks, with more complicated repairs taking longer if we need to source parts or replacement items. See our repair page for a basic list of our service offerings. Contact us to learn more.
Is there anything that can be done to modify my heirlooms to make them more my style?
Most clients inherit pieces which are lovely and sentimental just as they are. But if you are the proud owner of a jewelry monstrosity, and don't know what to do with it, then maybe we should chat about a re-design. Our jewelry designers can work with your heirloom resources (meaning the precious metals, gems, and diamonds you already own) and then develop an aesthetic to match your tastes and goals. From there, we can show you semi-custom options, such as pre-made mountings, or full-custom designs to incorporate your materials. These can be some of the best ways to preserve the sentiment of the original items in a way you will wear and enjoy. Read more about our custom design services here.
Can I remount my heirloom diamond in a new ring setting?
Are you looking to wear your new heirloom Diamond in a new setting? We can help! Maybe you have had a 1/2ct diamond in your wedding ring, and now you have inherited your mom's 1ct diamond- we can help you determine if this larger Diamond will fit in your original ring for an upgrade, and if so, we can set the new Diamond in its place. Maybe you inherited a ring where the color of metal is not your favorite, or the design is dated. In which case, you may want to find a new mounting for the Diamond. In this case, you can either mount a different gem in the old mounting, or trade in the mounting to cover a portion of the cost of the new mounting. We offer pre-made, semi-custom, and full-custom mountings in all metals for rings, earrings, pendants, and bracelets. To browse our pre-made mountings, view our semi-custom design browser.
Can I trade in some of my outdated heirlooms for new pieces I would prefer?
Yes! Have you inherited a good amount of jewelry, some of which is unneeded or not your style? Maybe you would rather trade for something new than sell it outright? We can help you, no matter which way you choose to go. Choosing to trade your item instead of selling it for cash typically nets 10-30% more for the item, which can maximize the value of your heirlooms. In addition, you get an item to remember your loved one by! When taking items in trade, we evaluate pieces based on two value categories for trading:
High value items, like fine diamonds, original antiques, estate jewelry in good condition, and rare gemstones. These will be valued based on their potential resale value. The trade value established is taken off pre-tax, saving you even more!
Mid value items, like worn estate jewelry of low to mid quality, damaged gold, platinum, and silver items, outdated antique or estate jewelry, lower quality diamonds and gemstones, etc. These items are valued for their materials value, such as the weight of the precious metals and the value of the component parts, like the diamonds, on the wholesale market. These items are used like cash as a form of payment, applied after tax.
How should my new heirloom pieces be cared for? Any special instructions?
Many antique pieces of jewelry are durable items that can be worn, stored, and enjoyed just like any other item. Some, however, need special care. Our jewelry repair experts are happy to evaluate your items and determine which ones are in a condition to warrant everyday wear, which may need to be repaired, and which may simply need to be worn with care. Likewise, some items need to be stored safely too, such as antique opals, antique pearl strands, and other more delicate items which need to be stored with the same delicacy we wear them. We are happy to educate our clients as to the value and nature of their heirlooms to ensure another generation of enjoyment.
How can I wear my heirloom jewelry? How was this antique originally used?
We are happy to educate our clients about their heirlooms and teach them how their pieces were originally worn. Our jewelry experts can evaluate the pieces you have inherited and advise you as to how they were originally worn- some items can still be worn as intended; others may need to be reconfigured for optimal use. For example, someone inheriting an antique ring can wear it the same today as when it was new, whereas someone inheriting fur clips will have a harder time wearing them and may want to consider repurposing them into something they will wear more.