Imperial Topaz Ring (Bicolor)
What is an Imperial Topaz Bicolor Ring? The Imperial Topaz Bicolor ring is exactly what you thought it might be: a Topaz with Two Colors and not one. But what makes this Topaz unique is that when expertly cut, it has distinct two color tones; golden yellow at the top merging into an orangey color at the bottom. However, there are plenty of other colors that Imperial Topaz come in. Read on below for more info on Imperial Topaz Bicolor Rings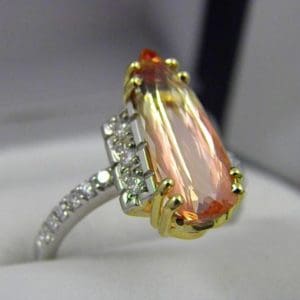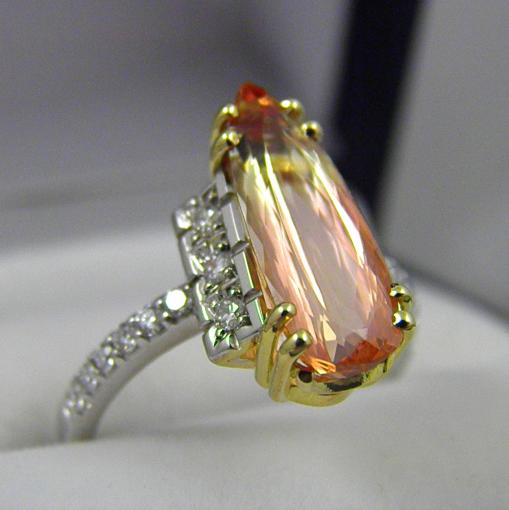 This month's featured vintage item is centered with an Imperial Topaz (Bicolor) – a gemstone so rare that a Google image search returns less than 10 examples, most of which aren't this nice, and it isn't even mentioned in our gemstone encyclopedias!
This incredible 3.50ct Topaz was mined in Ouro Preto, Brazil sometime in the 1970s or 1980s. Imperial Topaz is the true birthstone for November though it is quite scarce, forcing most jewelers to use citrine as a more plentiful alternative. What makes this particular gem truly unique is that the color is a golden tone at the tip of the stone, transitioning to a dark peachy orange at the base. The stone has been expertly cut, reflecting light up and down the length of the stone as it moves, perfectly showcasing the two tones within the gem, and sparkling like crazy!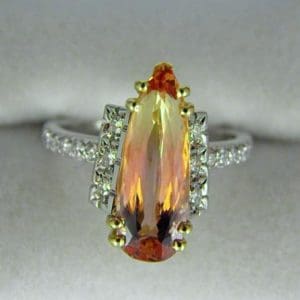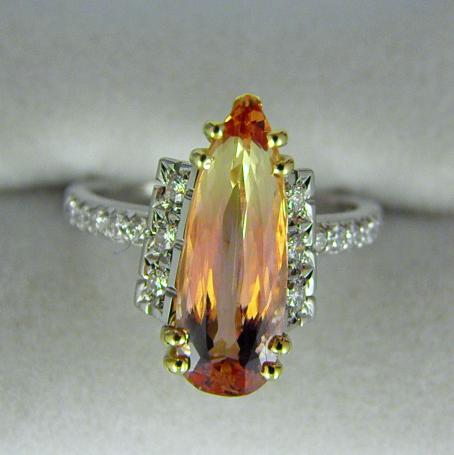 Bicolor Imperial Topaz
The name Bicolor Imperial Topaz is quite a mouthful but it has lots of meaning and an interesting history. The term bicolor refers to the fact that the gemstone has two distinct zones of color within the gem- in this case, golden yellow and peachy orange. The term imperial is a monicker given to the rare orange, pink and red Topaz from Brazil, because when the material was first discovered it was reserved for and cherished by the royal families of Europe. The name Topaz is thought to be Greek in origin, as Topazos was the ancient name of St John Island in the Red Sea where topaz was once mined. While the name may be complex, the stone is simply gorgeous.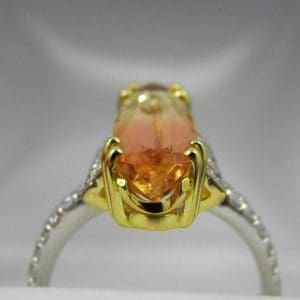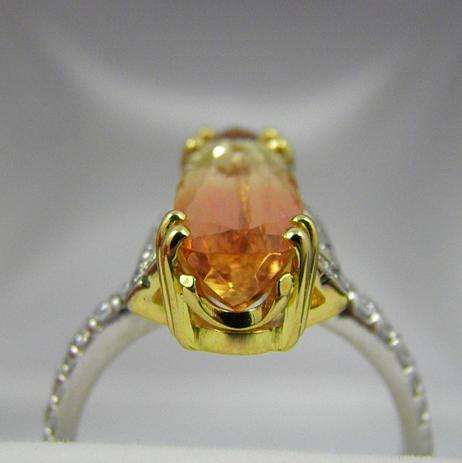 We purchased this ring out of an estate in the Midwest but when it came to us the original mounting was starting to show its age. We loved that the top of the ring was custom fitted to the center stone, and we liked the architectural gold work, so we restored it to as-new condition and made sure the stone is secure for many years to come. However, the original yellow gold band was beyond repair and slightly dated, so we attached a new diamond-set shank in white gold as a neutral and more modern background for the awesome center stone.
If you are a November baby, gem collector, art lover, or you just like this gem, be sure to come view this ring in person: it won't disappoint. Contact us for more details.