Whether you are wearing a 'Hawks Jersey to the game, or dressing up for a night on the town, our Seahawks inspired pieces can be dressed up or down and worn on any occasion. Many of our clients have chosen these pieces as a way to discreetly show team pride at work, while men have given these pieces as gifts to the women who share their passion for football and the 12th Man. We also encourage our clients to reuse gems or redesign items they already have to make their own Seahawk jewelry.
The above items are set with all natural colored gemstones (such as sapphire, spinel, iolite, tsavorite, and tourmaline) and diamonds in 14k gold or platinum. Prices range from $795-$4895, but we can create your own item to match whatever design or price point you have in mind.
And we have not forgotten all of the guys out there! We have made several Seahawks Men's Rings, which we feel is the ultimate way to share 12th Man pride. Most of these are custom made to fit the size and style of the wearer. We design these ring using hard, durable gems set in low protected settings, so even the roughest guy can wear and enjoy these Seahawks mens rings.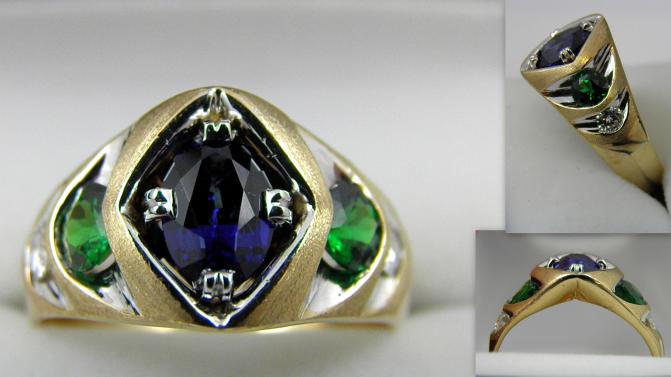 Seattle Seahawks and their logo is a copyright of the Seattle Seahawks and the National Football League. The above designs, "12th Woman Fine Jewelry" and "Shehawks Jewelry" are trademarks of Federal Way Custom Jewelers.