Blue Sapphire Engagement Rings – Vintage or Contemporary? 
One thing we can all agree on: Blue Sapphires look fantastic set in rings! You may not know, however, that blue Sapphires are the best selling colored stone for use in an engagement ring, and this has historically been the case. Whether clients prefer clean contemporary designs or a vintage look from days gone by, blue Sapphires tend to complete a ring flawlessly and make some of the most beautiful and timeless rings we sell. We sell many antique Sapphire engagement rings, but we also carry newly made Sapphire rings we have made ourselves, as well as a large stock of loose Sapphires for clients to choose from.
What to choose? With Sapphire engagement rings, we encourage our clients to select the Sapphire that speaks to them. There are a variety of gems available: different shapes, from round and oval to cushion and pear; different tones: from sky blue to navy blue, and different hues: from pure blue to teal blue and even blue with violet undertones. There are also a variety of sizes and prices, too. It is most important to buy what you like and is in your budget. If you are seeking an antique ring, there will be fewer gem options, but we do our best to keep a good variety. We can always sell a modern gemstone in an antique ring setting, or create one of our vintage-inspired engagement rings for a client looking for something particular. 
For clients who have started with a loose Sapphire, they next need to pick a mounting. With many of the pure blue or lighter toned gems, White gold or platinum settings with diamond accents really make blue Sapphire jump off your finger, so to speak. The white metal provides a neutral backdrop for the blue color to stand out. Some blue Sapphires, especially with purple or teal hints, look great with the warmth of Yellow Gold or Rose Gold settings. There is not right or wrong- we encourage clients to view their favorite gems set against their skin tone and different colors of metal, and choose what they like best. 
Classic, circa 1890: When asked to conjure up an image of an engagement ring I see a round diamond solitaire- and for the last century this was the standard by which all engagement rings were measured. However if the same question was asked circa 1890 I would likely have seen a gold band set with a blue Sapphire. In fact, for centuries before 1900 British and French aristocrats used blue Sapphires as engagement ring stones because the they were more available than diamonds and the color was considered rich and elegant. Additionally, Sapphires were durable for daily wear, and symbolized hope, faith and purity for the romantics out there.
As more diamonds were discovered in Brazil and South Africa people began to afford gems that were once scarce baubles of royalty. By the 1920s diamonds began outpacing other gems for use in engagement rings, and companies like DeBeers and Tiffany and Co saw an opportunity to expand the diamond market. These companies cornered the market in terms of supply, created many advertisements to promote diamonds, and it worked. Of course it helped that diamonds are beautiful and women loved them, but largely these companies changed the way society thought about engagement rings. Now, as natural Sapphires are rarer than Diamonds, the Diamonds are truly easier to find- the inverse of 150 years ago. 
A little modern history: We have Princess Diana to thank for bringing blue Sapphire engagement rings back into voque. When given the chance to pick an engagement ring, she famously refused the diamonds offered by the Queen, and went to her jeweler and picked a large Sri Lankan Sapphire. The ring has become a symbol of the modern royal family, especially since Prince William used it to propose to Kate Middleton. We have made countless rings inspired by this amazing, classic beauty.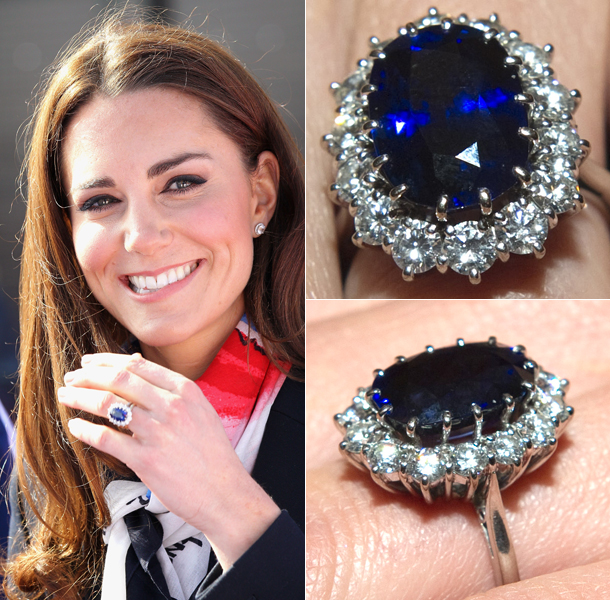 Never have people asked about blue Sapphire engagement rings more than today. We carry many natural sapphires because we love them. They come in every shade of blue (not even considering all of the fancy colors like pink and green) and they are nearly as hard as a diamond, so they can be worn daily without concern. There are really no other stones that have the same richness and elegance as a fine Sapphire: perfect for engagement rings.
Below are some examples of blue Sapphire engagement rings we have made over time. We have over 100 natural blue Sapphires in stock of every shape, size, color hue and price. Most of our Sapphires are from Sri Lanka & Madagascar, with some from Montana, Burma, Thailand, Australian and other sources. We primarily carry untreated and unheated Sapphires as well as low-heat treated Sapphires, a permanent treatment accepted in the industry. Typical solitaire sized blue Sapphires range in price from $200 up to 12,000, with most of our options available between $800-3400, leaving plenty of room for the mounting of your choice. 
As our name suggests, Federal Way Custom Jewelers offer a superb customizing service to our clients. You may want a vintage look, or a modern contemporary style. Perhaps your are buying NEW or perhaps you might want to customize a ring you already have. No matter which your preferences are, why not contact us so we can advise of what we can do for you to ensure you have your own customized jewelry.