Sapphire is the birthstone for September. Along with Rubies, Sapphires were the gem of choice in engagement and betrothal rings prior to the 1900s. Today, they are our best selling gemstone and are commonly associated with royalty. We make fabulous sapphire pieces: some are encrusted with diamonds for a dressier look, others more simple. From modern artsy pieces, classic items, and authentic antique and vintage sapphire jewelry: we love it all! We have set sapphires in every color of gold- we let our clients decide how they prefer to wear their sapphires, as there doesn't appear to be a wrong way.
There is amazing variety inherent in the sapphire family: one can find fancy colored gems for under $1,000, or spend $10,000 on the perfect blue example, yet they are all beautiful in their own right. Although traditionally blue, sapphires can be found naturally in almost any color: pink, purple, lavender, yellow, orange, peach, teal, green, grey, black and every shade in between: even rare bicolor or color change varieties exist. Sapphires are doubly refractive, which helps them look great in any setting.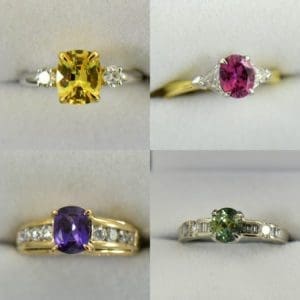 Sapphires are a remarkably tough gem: 9 out of 10 on the Mohs scale of hardness. What this means for sapphire jewelry is that you can wear them in rings with little to no worry about the stone being damaged: perfect for an everyday wear item like an engagement or anniversary ring. Of course, they also make fabulous pendants, earrings, bracelets, etc. for those who don't stop at rings. If you celebrate a birthday in September, then a Sapphire for you. If you are looking for a gift for any September occasion, then look no further than a Sapphire. Or, if you are like me, I buy Sapphires for any reason I can think of.
Federal Way Custom Jewelers has been selling sapphires for decades, and we have extensive experience finding the highest quality gems for the best price and passing those savings onto our clientele. All the pictures you see in this post are examples of sapphire jewelry we have sold in the past, and you can view pieces we currently have for sale by visiting our shop page!