The below ring is a perfect example of the custom "recycled jewelry" work we are known for.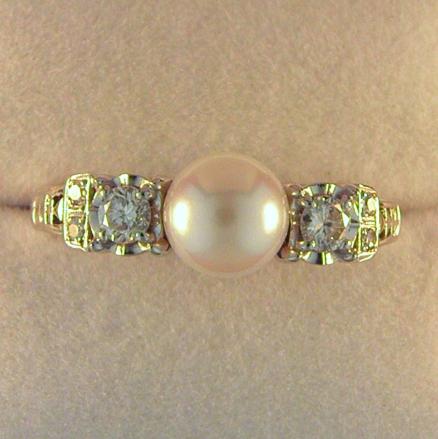 The client who designed this had always wanted a pearl ring. She had inherited several antique diamond rings that she was hoping to re-design in some way. Unfortunately the main ring had a very nice diamond and some cool carving work on the sides, but the shank was worn thin and the top of the ring needed extensive repairs. The other ring also had a nice diamond but it was set in yellow gold and was not a style that the client liked.
| | |
| --- | --- |
| | |
Thus she decided to make a three-stone ring with a pearl in the center. First she chose an 8.5mm Akoya saltwater pearl that was very close to a pure white with phenomenal luster. To pay homage to the original rings the client chose to set the diamonds in illusion heads (which are art-deco to the core). Our designer, Donna, hatched the idea to use the carved ring shank from the original ring as an accent on the new ring. The result was a ring that has a large presence on the hand and a classic design format, but with the added benefit of preserving the sentimental value of the original rings and- since the client supplied the diamonds and a portion of the gold- the overall project was quite affordable.