Recycled Jewelry • Redesigned Jewelry Pearl Ring
What is recycled jewelry? Instead of keeping a broken chain or necklace in your collection doing nothing for several years, the gold or silver can be reused to create a new piece of jewelry. In other words, your old broken jewelry can have some new life breathed into it and can re-appear as a sparkling new jewelry item that is almost certain to be unique.
Redesigned Jewelry: At the same time as your recycling project, you can also use the process to redesign the piece and by adding or taking away, you can create a totally different piece for your collection.
Federal Way Custom Jewelers in the Seattle Metro area is well known known for their excellence in recycling and redesigning older pieces of jewelry. The ring below is a perfect example of the custom "recycled jewelry" work we are known for.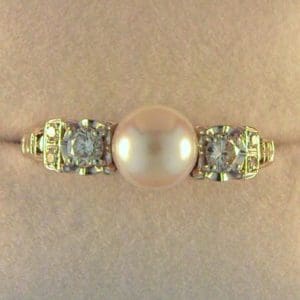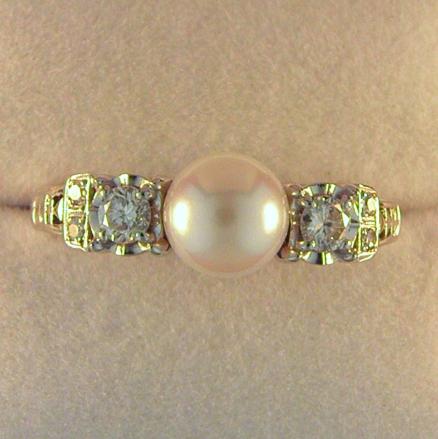 The client who designed this had always wanted a pearl ring. She had inherited several antique diamond rings that she was hoping to re-design in some way. Unfortunately the main ring had a very nice diamond and some cool carving work on the sides, but the shank was worn thin and the top of the ring needed extensive repairs. The other ring also had a nice diamond but it was set in yellow gold and was not a style that the client liked.
| | |
| --- | --- |
| | |
Thus she decided to make a three-stone ring with a pearl in the center. First she chose an 8.5mm Akoya saltwater pearl that was very close to a pure white with phenomenal luster. To pay homage to the original rings the client chose to set the diamonds in illusion heads (which are art-deco to the core). Our designer, Donna, hatched the idea to use the carved ring shank from the original ring as an accent on the new ring. The result was a ring that has a large presence on the hand and a classic design format, but with the added benefit of preserving the sentimental value of the original rings and- since the client supplied the diamonds and a portion of the gold- the overall project was quite affordable.
If you have broken or old jewelry that you do not use anymore, why not consider the option of recycling or redesigning. At Federal Way Custom Jewelers we are known for offering such services to our clients. If you would like more information on recycling or redesigning some of your jewelry, please contact us and we can advise you on how we can help.