Upcycled Jewelry • Redesigning or Remounting your Jewelry
Federal Way Custom Jewelers loves to help our clients recycle their jewelry. Do you have an heirloom ring in need of restoration? Maybe you own some jewelry with gems you love, in settings you hate. Instead of keeping a those unworn items, broken chains, and other scrap gold sitting in your jewelry box unworn, the gems can be remounted, the diamonds can be put to new uses, and the gold, silver or platinum can be reused to create a new piece of jewelry. In other words, your old broken jewelry or unloved, dated items can have some new life breathed into them, and can re-appear as a sparkling new piece you will love to wear.
Redesigned Jewelry: there are many ways to redesign your jewelry! Some clients simply want to alter an existing piece- remount their diamond in new prongs (what is called a "head and set" job) or in some other way complete a simple modification of the existing piece. Examples include modifying a bail on a pendant to accommodate larger chains, converting stud earrings to dangle, adding diamonds or gems to a ring to add bling, etc. These projects are often affordable, since they work with materials you already own! We are simply limited by your creativity and budget. Other clients want to start from scratch, and do something more ornate.
Remounting gemstones: many clients have a fabulous gem that they want to set in a new mounting. Do you have an heirloom Diamond, in a worn out ring? Maybe you have a birthstone ring, made when you loved white gold, but now you only wear yellow. What to do? You can work with our team of designers to find a new home for your treasured gems and Diamonds. If you are looking for something more simple or classic, we can often order semi-mounts for rings, earrings, pendants, etc. in any type or color of metal quite affordably. We also keep a large selection of semi-mounted rings and pendants in stock, from Diamond encrusted vintage inspired masterpieces to more classic platinum 3-stone rings- all on hand to see and try on. If none of these suit, maybe a custom design is in order.
Upcycling jewelry in a custom design: for clients looking to do something particular with their items, a custom design may be in order. We often work with clients with numerous items they wish to incorporate in one piece, or in several. We can work with you to gather your Diamonds, even removing from the settings if needed, and your other precious gems. These become the focal points of most custom rings and other custom items. In most cases, the remaining precious metals are traded toward either the cost of the work or traded for clean casting grain. In special circumstances we can re-cast with your sentimental gold- but only in certain projects and when clients understand the potential risks.
How do you start on a custom design? The best thing about upcycled jewelry is that the pieces we are upcycling give us a starting point for a custom design- we are not starting from scratch. Some clients come to us with a design in mind: maybe they have seen a ring elsewhere, and want us to recreate it using their materials. Other times clients have a general idea, and want our help determining or proposing some design ideas to use their gems. In these cases, we will get to know you and learn your aesthetic, and then propose some ideas to repurpose and recycle your materials into a new design. We often show clients existing rings and other items of jewelry to develop a wish list and learn your likes and dislikes.
Federal Way Custom Jewelers in the Seattle Metro area is well known known for their excellence in recycling and redesigning older pieces of jewelry. The ring below is a perfect example of the custom "recycled jewelry" work we are known for.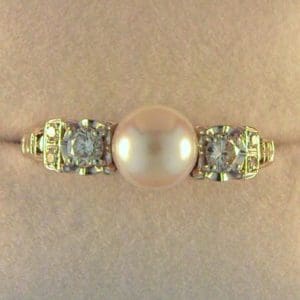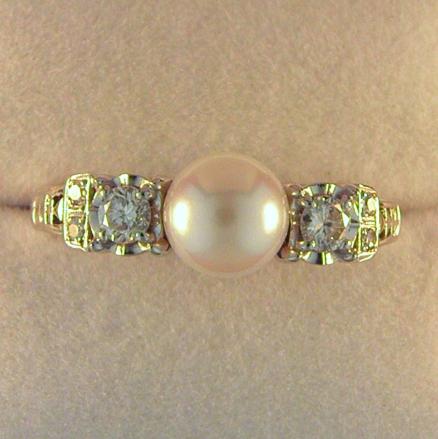 The client who designed this ring had always wanted a pearl ring. She had inherited several antique diamond rings, none of which she loved, that she was hoping to re-design in some way. Fortunately the main ring had a very nice diamond and some cool carving work on the sides, but sadly the shank was worn thin and the top of the ring needed extensive repairs. The other ring also had a nice diamond but it was set in yellow gold and was not a style that the client liked. Thus each ring had components we could use.
The client worked with our designer Donna and determined that she wanted to use the diamonds on either side of the Pearl. We ended up designing a three-stone ring with a pearl in the center since it was the best use of the materials that also matched her tastes. She started by choosing an 8.5mm Akoya saltwater pearl that was very close to a pure white with phenomenal luster. Then, to pay homage to the original rings, the client chose to set the diamonds in squared illusion heads (which are art-deco to the core). Our designer, Donna, hatched the idea to use the carved ring shank from the original ring as an accent on the new ring. The result was a ring that has a large presence on the hand and a classic design format, but with the added benefit of preserving the sentimental value of the original rings and- since the client supplied the diamonds and a portion of the gold- the overall project was quite affordable.
| | |
| --- | --- |
| | |
If you have broken or old jewelry that you do not use anymore, why not consider the option of recycling or redesigning. At Federal Way Custom Jewelers we are known for offering such services to our clients. If you would like more information on recycling or redesigning some of your jewelry, please contact us and we can advise you on how we can help.