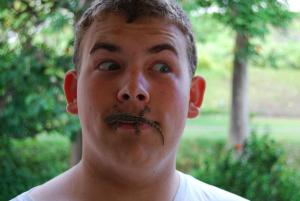 Ever since I was a little boy I have been fascinated with things that crawl through the dirt. While I liked to catch snakes and lizards- and I have the scars to prove it- nothing captured my fascination like a rare moth or beetle I had never seen before. I certainly have never shied away from getting dirty and exploring nature, as the photo proves. So you can imagine my surprise and pleasure when I learned that there is a whole category of jewelry made to resemble insects, combining two of my passions.
The insect-as-jewelry phenomenon started during the Victorian era. English interest in Egypt, through building the Suez Canal and exploring archaeological sites, popularized Egyptian themes in jewelry. The most popular of these motifs was the scarab beetle- which had been a good luck symbol in ancient Egypt. Artists carved semiprecious stones to look like scarab beetles, or molded gold and silver in similar designs (below left). Later in the Grand Period of the Victorian era, between 1860 and 1885, other insects became popular in jewelry. During this time we first started to see spiders, flies, moths, and bees used as earrings, brooches and rings. Sometimes the bodies of the insects would be large gemstones, other times the piece would be pearl or diamond encrusted, and sometimes the items were simply carved from silver. In France, where bees were the emblem of Prince Victor Bonaparte, all of the fashionable ladies had to have a patriotic bee brooch. A few examples of Grand Era insects are pictured below.
These early renditions of insect jewelry inspired many jewelers in the Art Nouveau period that followed. The difference between the jewelry made during these eras is drastic. The Victorian pieces were chunky, with lots of character- crafted more for whimsy than realism. The love of nature that blossomed after the turn of the century was more refined. Advances in jewelry technology allowed craftsman like Rene Lalique and Louis Comfort Tiffany to play with complex enameling, new metals white gold and platinum, as well as different gemstones such as opals, tourmalines and garnets. Insect pieces from the Art Nouveau period tend to be the most collectable, as they have a beauty and realism that is impossible to replicate. The top two photos below show the incredible enamel work of Fench jeweler Lalique, and the below three images show work from the same era but made in Great Britain and America- with more emphasis on gems and diamonds. The beetle below right derives its iradescent green and blue color from an actual beetle shell affixed to a platinum mounting.
| | |
| --- | --- |
| | |
Insect jewelry took a back seat to more traditional and modern styles in the earlier 1900s, but came roaring back from the 1950s to the 1970s. Wearing multiple small brooches on scarves or a chunky piece on a lapel was all the rage. Costume jewelers like Trifari sold insect pieces by the thousands, and fine jewelry soon followed. Below are two costume pieces, made in sterling silver with enamel and glass gemstones, that were extremely popular in the 1950s.
| | |
| --- | --- |
| | |
By the late 1960s, fine insect jewelry was big business. A New York jeweler named Herbert Rosenthal, known for elaborate and costly brooches, trademarked his designs for bejeweled bees. They became so popular that other firms started making similar designs, often times at much lower prices. In response Rosenthal sued these other jewelers for design infringement. The case ended up in the US Supreme Court where it was decided that while the other brooches were surely imitations of Rosenthal's designs, Rosenthal should not have been granted a trademark in the first place, as bees are of natural origin not a unique design created by Rosenthal. Despite his loss, and maybe because of the interesting story, Rosenthal pieces are especially collectable today. The below bees are both of mid-century origin, the one at left by Rosenthal, and the one at right by Van Cleef and Arpels.
| | |
| --- | --- |
| | |
Insect pieces have continued to be popular, especially now that the fashion world emphasizes larger statement jewelry. The majority of the more recent insect pieces take the form of pins and brooches, but we also see some rings and pendants too. Most of these later pieces feature textured or carved gold wings, with diamond set eyes, and pave´ set sapphires, rubies or emeralds as bodies. While some can be pricey, many of these bugs were made in smaller sizes and are affordable to collect and enjoy, and these are the pieces we tend to carry in our store. The below insect brooches are all currently for sale, and retail between $350 and $750, set in 14k gold with natural diamonds and gemstones, each one has a wing span of approximately 1 inch.

I also can't forget to mention Frederick, the Rosenthal bee I have in my personal collection. If you visit our store, you will likely see Frederick on my suit lapel, or even resting on my fleece vest. This shows why insect brooches are still loved today: they can be worn by men and women alike, dressed up or dressed down, on any occasion. Frederick is set with diamond eyes and Australian black crystal opals for the body, and he measures 1 1/4 inch across.

Stop by our store to see our ever-changing insect jewelry, or contact us to learn more.