Every once in a while a piece of jewelry actually stuns me. I stop breathing, my heart races, my vision blurs- and I form a permanent bond with the item. And it happened to me this morning, with this awesome mid-century figural brooch that depicts a spider in its web. We are affectionately calling him Aragog -Hagrid's giant pet spider in Harry Potter- because he is truly the king of spiders.
Aragog is crafted in 18k yellow gold. His body is a large white Australian opal (with more color than the photos show- a green and red pinfire), his head is a black Australian opal, and his eyes are exceptionally rare demantoid garnets; the overall bodice measures an inch and a half long! His diamond studded legs are crafted in textured platinum and set into a 2 ¼ inch wide platinum web, and the weighty brooch secures with a 14k white gold pin.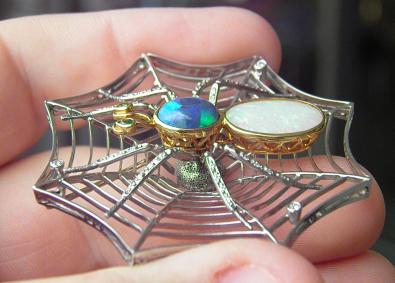 Aragog is also quite crafty. He can unscrew from his web, and even remove his own legs. Why you may ask? So that his owner can create brothers and sisters for Aragog- new bodices set with different gemstones- without having to redo the entire item. Amazing!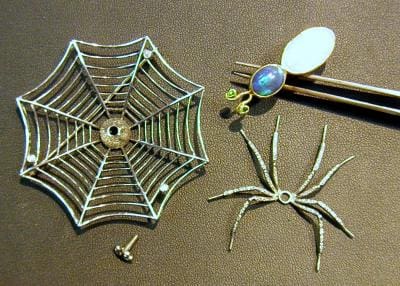 Aragog is a true masterpiece. Platinum open work like this was done entirely by hand by master craftsmen the likes of which are impossible to find today. Aragog is also quite rare. Figural brooches have always been quite collectable, especially now that women's suits and scarves are back in fashion. This brooch is an exception to the rule of figural jewelry. Most figural items are quite small and the gems they are set with are more for accent. This brooch uses large gem quality black opal and demantoid as a centerpiece- which makes collectors drool!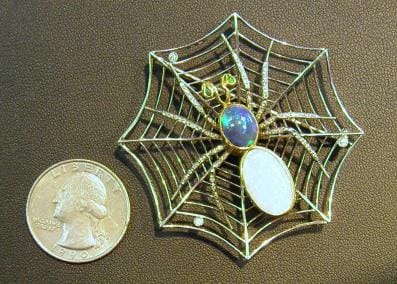 Aragog is for sale- contact us for details.